Team ready to defend home mat
Tonganoxie High School wrestlers have plenty of motivation for Thursday's meet.
One week ago, still stuffed with holiday turkey, Tonganoxie wrestlers were hard at it, preparing.
Anyone standing within 10 feet of Tonganoxie High School's multipurpose building that morning would have been overwhelmed by the grunts and the distinguishable sound of about 15 sweaty bodies slapping the mat in unison over and over again.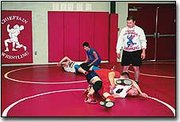 Make no mistake Tonganoxie's gladiators know how important Thursday's matchup against Immaculata and Basehor-Linwood is.
"Basehor's always been tough," said Coach Bill DeWitt. "Immac has struggled in the past, but they have a new coach who's got the program heading in the right direction."
Last year Basehor-Linwood finished second in the Kaw Valley League, right ahead of Tonganoxie.
But there are other reasons why this meet is probably the biggest of the season so far for the Tonganoxie team.
For one thing, tomorrow's double duel is the first home meet of the season.
For another, the meet will pit the Chieftains against up-the-road rival Basehor-Linwood.
DeWitt said there is no love lost between the two schools.
"I think, for the kids, the fact that it's Basehor-Linwood motivates them," he said.
Though the actual meet will be held in the high school gym, the completion of the multipurpose building and its wrestling room has finally given the team a home base.
And coming off its victory at the 13-team Onaga tournament a few weeks ago, Tonganoxie should have the added advantage of confidence going in.
DeWitt said the Onaga victory was a definite sign the team was heading in the right direction.
"A couple of years ago we finished last (in league)," he said. "The win was a credit to the kids who've stuck with it. It's just a good sign."
He said that after the Onaga win, several team members received compliments from other coaches in the area.
DeWitt said those compliments served to get the team pumped up for the meet and ready for the rest of the season.
"We've always wanted to bring a little bit of respect for the kids and the school," he said.
Although this is an important home meet against a skilled rival, Tonganoxie isn't letting a successful early season change how the team approaches the meet.
"We're still going to play the role of underdog who gets no respect," he said. "Basically, we have no history, so we're trying to build one. And so far we're going in the right direction."
Bryce Ferris, a parent who helps with wrestling practices, said he's hopeful that support for Chieftain wrestling will grow.
"Come on out and watch the gladiators from Tonganoxie take on Basehor and Immac," said Ferris, whose sons Josh and Jeremiah wrestle at 125 and 171 pounds.
The meet begins at 5:30 p.m. at the high school.