Tonganoxie leads county in housing
City issues record number of permits
When it comes to housing, Tonganoxie leads the county.
In 2000, the city of Tonganoxie issued 99 housing permits for new construction.
That rate outpaced other cities in Leavenworth County.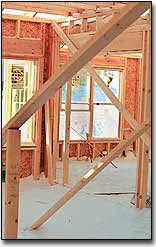 The city of Leavenworth issued 60 permits, Lansing issued 54 permits and Basehor issued 24 permits.
Outside of cities, growth was strong.
Leavenworth County issued 192 permits for construction of new family homes in 2000. John Zoellner, Leavenworth County planning director, said subdivisions were on the rise in 2000.
"We had 33 plats this year more than most other years," Zoellner said.
During the year, the county approved 28 subdivisions.
"They're spread all over the county," Zoellner noted. "Mostly, I'd say in the south half of the county quite a few of them are out around Tonganoxie."
In Tonganoxie, residential permits in 2000 include 33 single-family residences and 66 duplex units. Leavenworth issued permits for 52 single-family residences and eight duplex units. All of Lansing and Basehor's permits this year were for single-family homes.
Linda Zacher, Tonganoxie city planner, called this a record year for Tonganoxie.
"I think it would be safe to say that this is the most building permits the city has ever issued in one year," Zacher said.
In Basehor, Mike Cooper, code administrator, said he expects to see an increase in Basehor housing permits in 2001, in part because a new sanitary sewer plant is expected to come on line in July.
"It's looking like it's going to be a pretty good year," Cooper said. "I think we'll probably do 50 or more permits."
Platted in a Basehor subdivision are 42 lots for single-family residences and 42 lots for duplexes, Cooper said. Another subdivision has 25 single-family lots left. And more development is in the works.
"I've talked to a couple of other developers who are working on preliminary plats now for a total of approximately 50 to 75 lots for single-family housing," Cooper said.
Chris Clark, Tonganoxie city administrator, foresees more growth for the city in 2001 in commercial as well as residential.
"I predicated the budget on the continued growth," Clark said. "And what I came up with were that there were between 60 and 75 lots that I considered ready for residential construction."
On top of that, Clark says to watch for a 2001 growth in commercial construction. He noted land in northeast Tonganoxie near U.S. Highway 24-40 that is zoned commercially.
This includes land south of Urban Hess Business Center, as well as a tract near First State Bank, Clark said.
"And we've actually received some interest from a particular person about doing another commercial development in that area," Clark said. "I think the potential exists for some heavier commercial development than we've seen this year."
Art Hancock, a Tonganoxie Realtor and one of four principals in the Stone Creek residential subdivision, said that the area's main draw is transportation. In 1997, the state expanded U.S. Highway 24-40 from two lanes to four lanes.
"The roads made a world of difference," Hancock said. "Barring any type of horrendous increase in interest or gasoline prices going sky high, we're going to keep seeing the growth it's going to happen."