Chieftain wrestlers post 4-2 record
After spending the entire pre-holiday season on the road, the Tonganoxie High School wrestling team finally got to compete at home twice.
And the outcome was good. After facing four opponents in two separate double duals, the Chieftains went 3-1 to push their record to 4-2.
In the team's first matchup of the week, a Jan. 4 double dual against Immaculata and Basehor-Linwood, Tonganoxie came out on fire, pinning Immaculata's first seven wrestlers.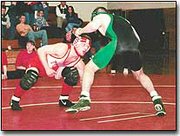 Tonganoxie's Pat Weyer then earned a 17-5 victory at 152. The remaining five Tonganoxie wrestlers also pinned their opponents, helping the Chieftains go undefeated to win 76-0. This win, DeWitt noted, set a school record.
Things didn't go so well for Tonganoxie in its second dual of the night, which was against league powerhouse Basehor Linwood. Although it was a fight to the finish, Tonganoxie lost, 46-36.
Coach Bill DeWitt said the Chieftains' consistent diligence at practice sessions was what helped them hold their own against the Bobcats.
"We have a lot of kids out for wrestling and I have kids that work hard at every weight, so it's going to take a good team to beat us and Basehor-Linwood certainly is a good team," he said.
Monday against Perry-Lecompton and Oskaloosa, the Chieftains dominated both teams beating Perry-Lecompton 75-6 and Oskaloosa 72-12.
On that day the Chieftains won 25 matches, 23 by pin, and only lost three.
After the dust cleared from the week's home stand, several Chieftain wrestlers came away with outstanding records. At 140 pounds, Willy Altman increased his undefeated record to eight wins. At 145, Steve Adcox moved his record to 8-2.
With his two wins, Pat Weyer moved to 9-2 at 152, and 275-pound Tony Miller moved his heavy-weight record to 6-2.
DeWitt said this year's wrestling results show overall improvement.
"We're doing much better than we did last year," DeWitt said. "Part of that's because we have great senior leadership. I just have kids that come in every day and work hard. I'm thrilled for them they're having a good time."
DeWitt said Tonganoxie's home wrestling tournament is scheduled to begin at 9 a.m. this Saturday.