Marching band storms Texas
Tonganoxie High School Marching Chieftains last week brought home three trophies from Dallas and an open invitation to more national events.
Band director Char-les VanMiddlesworth II said that after the Cotton Bowl ended and the band was heading for the bus, event organizers approached him.
First, they told him that the Chieftains had been deliberately selected for top billing during the game's halftime ceremonies.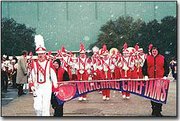 "They said they had really wanted Tonganoxie to be in the front row because they take directions well and they're well-behaved," VanMiddles-worth said.
And then they invited VanMiddles-worth to bring the band to the other events that they organize, which include the Alabama Bowl, the Las Vegas Bowl and the Kentucky Derby parade.
"Isn't that exciting," VanMiddles-worth said. "I mean how cool is that it just blows me away."
Rachel Clark, drum major, said the trip was wonderful.
"It's kind of amazing," said Clark, who is a senior.
The band's growth, moving from a high school band of 20 three years ago to close to 100 now, she said, also was amazing.
"When I first started in high school, the band was pretty much the laughing stock of the school," Clark said. "If anyone had asked me four years ago if I thought we'd ever make it to a bowl game or any big event, I would have laughed because it just wasn't seeming possible."
When asked what is VanMiddles-worth's secret to motivating students, Clark laughed.
"Who knows what goes on in his mind," she said. "He has something that the kids look up to and they want to actually try to do their best for him."
Early on, the students picked up on one of VanMiddlesworth's favorite sayings: "Yeah, Band!"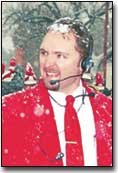 This too, they took to Dallas, Clark said.
"Right before the awards ceremony, they were making sure all the schools were there and we were supposed to stand up and scream when they said Tonganoxie," Clark said. "But we all stood up and yelled 'Yeah, Band!' first, and then we screamed."
The band was awarded three trophies, one for the jazz band's third place, and honorable mentions for concert band and the marching band.
This is just a start.
"We're all fired up now," said VanMiddlesworth last week as he readied for classes.
"It's time now to take the program to a higher level of performance," he said.
"We've hit our peak and it's time for us to learn more things that are going to help us become a better band."
Principal Mike Bogart told school board members Monday night that the trip had been an educational experience for the students.
"For them, it was a music festival built around a football game," Bogart said.
The students didn't get to see much of the game, he said.
"They marched out of the coliseum into the stadium for the pregame show, they marched back to go through their halftime routine and by the time they're all done with that, they may get to see part of the fourth quarter," Bogart said. "It's a working trip, it's not just for entertainment."
Bogart told school board members that the band would be returning an unused portion of the $8,000 donated by the board to help pay for the trip.
"I can only say that I would support these trips in the future," Bogart said.
VanMiddlesworth, still absorbing the band's victorious start of the new year, recalled that the trip was a result of work by many.
"I think the best thing about the whole trip is that it wouldn't have happened if we had not had so much community support and support from the parents," VanMiddlesworth said. "And with the kids' desire for excellence, we really pulled things together."