Drug bust nets 2 arrests
Suspected meth lab discovered at motel
A Tonganoxie couple were arrested Friday afternoon after a methamphetamine lab was discovered at a local motel.
The two, both 38 years old, were booked into the Leavenworth County Jail on six drug-related charges, as well as endangering a child. They remained in jail Tuesday morning, pending a decision whether to file charges in Leavenworth County District Court.
According to Major David Zoellner of the Leavenworth County sheriff's office, officers on Friday morning targeted a room at the Sunset Inn, 205 U.S. Highway 24-40.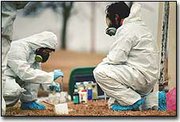 When officers knocked, a man in the room fled the building through an adjoining room, taking with him with a rubber box filled with what authorities believe to be the components of a methamphetamine manufacturing operation. Officers stopped the man on the north side of the motel and then arrested him and his wife.
"We do have a legitimate meth lab here," Zoellner said following the arrests.
Friday afternoon, agents with the Kansas Bureau of Investigation and the sheriff's office cloaked in white suits and protective masks took samples of the contents of the box. The samples were to be shipped to the KBI laboratory in Topeka for testing. Chuck Magaha, emergency management director, also assisted, monitoring air quality in the motel room.
Zoellner said he couldn't be specific about how officials found out about the suspected drug lab.
"This is our first in 2001 in Leavenworth County," he said.
Officials uncovered 21 methamphetamine labs in the county last year.
KBI Special Agent Currie Myers said the motel owners would have to ensure all contents in the room before it safely could be occupied again. The doors to two rooms at the motel remained sealed on Tuesday, four days after the seizure.
"And anybody who was in there should see their physician soon to be checked out," he said, including a 9-year-old boy who lived in the room with the couple.
"Apparently, he's complained of sore throats, which is one of the symptoms of living in these conditions."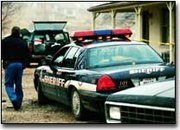 Janet Riley, whose family owns the motel, said she wasn't aware the meth lab was operating on her property.
"We had no prior knowledge of this going on," she said, watching as officers worked on the northwest end of the motel. "I try very hard to have a good reputation in this town. I don't tolerate this, and I don't condone it."
In addition, she said she was concerned about the health of the 9-year-old boy, as well as her own son's health.
"Everything in that room can be replaced, but my baby cannot," she said, referring to her 11-year-old.
The two were arrested on the same charges: unlawful manufacture of a controlled substance; possession of opiates; sale and distribution of opiates; not having a drug tax stamp; possession of simulated controlled substance; endangering a child; unlawful acts relating to certain narcotic drugs pertaining to a child under 18.