Going back to school when you're old enough to be your classmates' mother may sound daunting, but it's really not so bad.
Take it from Phylles Barker, wife, mother and grandmother, who, while in her early 50s, decided to enroll in college. She's even taken four of her classes with her daughter, Lisa Dent.
"The age difference doesn't matter at all," Barker said. "They want to learn from you and they want to show you what they know. I thought it was really great college isn't just for an 18-year-old it's for anybody who wants to go."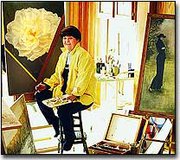 Dent said she's proud of her mother.
"I think this is something that she's had inside her for years that she's finally doing," Dent said.
For the past five years, Barker has been attending classes at Kansas City Kansas Community College and swooping up all the class hours she could take especially in art.
And now Barker says she'd like to begin teaching children to draw, starting with the fundamentals of design while they're still malleable.
It's easy for budding talent to be quashed, she said, recalling that when she was in high school, an art teacher accused her of having traced a sketch, saying it was too good for her to have drawn it freehand.
"I had drawn it, not traced it," Barker said. "And from then on, I didn't draw."
But about six years ago, during boating trips at Lake Perry, she became acquainted with an artist who had taught art in college. He encouraged her to enroll in school.
Life hasn't been the same since.
The burgeoning stack of paintings and sketches in her Tonganoxie home attests to that.
Today, on Fifth Street, where she lives with her husband, Ron, and dog, Gizmo, clearly, Barker has made room in her life for her art.
The west area of her kitchen has been transformed into a miniature art studio, complete with easels, paintboxes and paintings in various stages of completion.
"The kitchen works out real well, except we fall over the paintings," Ron said.
And so, they're scattered throughout the tidy house.
"Sometimes I hang them on walls because I don't want them to get scratched," Phylles Barker said. "The one over the fireplace may come down and I might bump it upstairs and put this one in here."
There are so many paintings now that her art teacher said it's time to start selling.
Ron grinned and quipped, "Somebody's got to make a living."
To introduce her paintings to the public, Barker said she'll soon have a showing at Bichelmeyer's Steakhouse.
Her artistic style could best be described as eclectic.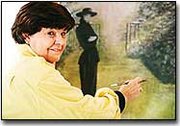 "I paint Oriental, landscapes, Impressionism and still lifes," she said. "Maybe someday I'll settle down and do one thing, but I don't know."
It is an area artist, Robert Sudlow of Lawrence, whom Barker said is her favorite painter.
"I love his art," she said. His landscapes, she said, appear to be multi-layered, with a smoothness underlying texture.
Some of Barker's favorite drawings that she's done herself are of children including her children and grandchildren.
"I like to sketch children I try to capture their feelings, their quietness, and in some of them you see an adventure, a sweetness to them," she said. "The paintings come alive when you are working with them."
She started learning about art by drawing, then using charcoal, then watercolors. Recently, she's begun painting with oils her favorite medium so far.
"I didn't think it would be my favorite, but it is," she said. "I can get a lot more depth out of it and I can leave the paintings standing and come back to them later."
She plans to concentrate more on portraits in the future, she said.
"I can draw them without a problem, but the painting I really haven't tried that much," Barker said.
In the future, she plans to find a place to hold art classes, perhaps in her home.
There's an imagination visible in Barker's paintings and perhaps that's because she sometimes paints what's in her head, as she says.
For instance, Ron's favorite painting hangs on their dining room wall. It's of a tall, confident-looking woman who appears to be waiting for someone, or something, near a garden gate.
Phylles says maybe the woman is just someone who's waiting to find her way.
Like the artist, perhaps?