Heating costs spike
Area residents, business owners reeling from bills
The man upstairs at the McLouth Methodist Church wasn't checking out the parishioners he was checking out the insulation in the attic.
As John Kimberlin peered from the attic window just below the tall white steeple, and Richard Eason climbed a ladder, Tony Bechard, church trustee, held it steady.
Cold temperatures had caused a spike in the church heating bill, Bechard said: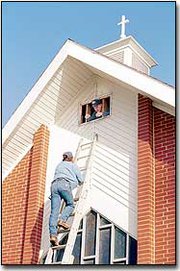 "We had an $800 gas bill and we thought we'd better do some checking."
The church furnace was old, he noted, and high costs weren't that big of a surprise.
"When furnaces are running full blast all night, it's bound to use a lot of gas," Bechard added.
Saving energy dollars
Joe Heinen, member services manager for Leavenworth Jefferson Electric Cooperative, said the attic is a good place to start.
"A lot of homes do not have 12 inches of insulation in the attics," he said. Also, Heinen noted that ductwork in the attic should be covered with 12 inches of insulation. Uncovered ducts cause loss of heat.
A frosty morning is a good time to check a home's attic insulation, Heinen said.
"If you look at your house from the street, if it's completely frost-covered, that tells me that your attic is well-insulated," Heinen said. "If it's showing areas where the frost is off, that's an indication that you do need to address the attic."
He cautioned that even usage of small appliances, such as heaters for the pet's water bowl and engine block heaters, will push up an electric bill.
"Those things use a lot of electricity with the cold we've had, the thermostats in them did not shut down for 30 days," Heinen said.
Overall, this winter's customer usage has increased from 25 to 50 percent from last year, Heinen said.
Although the customer's bills are higher because of increased usage, the utility company's electric rates have not increased.
"That's because of the way our wholesale power cost is set up we have not had big increases passed on to us," Heinen said. "But when you're looking at natural gas or propane, that's a different story."
Coldest on record
Ron Clemens, owner of KanGas, Basehor, a propane distributor, said propane prices have increased from 79 cents per gallon a year ago to $1.39 per gallon now. So, it's difficult to compare this year to other years, he said.
"You're looking at the coldest December on record," Clemens said.
However, he did say that, for instance, on an average weather year, a 2,000-square-foot newer home with four family members, and gas water heater, dryer, range and furnace would use about $900 worth of propane.
"If you get a February like December was, then you're going to see that number double," he said.
Some who haven't felt the price-increase pinch were KanGas customers who pre-bought their propane.
For the 1999-2000 winter season, the pre-bought price was 69 cents per gallon, Clemens said. For this year's winter season, pre-bought prices were 79 cents per gallon. The propane industry is unique in this area, he noted.
"This is the only industry that allows you to lock your cost in," Clemens said. "Natural gas lets you level payment it all, but that doesn't stop it from rising on you."
Just another commodity
James Lambert, community relations manager for Kansas Gas Service, a distributor that serves about 670,000 customers across the state, said natural gas prices have doubled in the last year.
"Our cost of gas, which is basically a pass-through from our suppliers, now is $8.68 for one unit of gas," Lambert said. "During the same period last year, it was $4.20, so as you can see, that's a big increase."
Top that with the winter weather being 60 percent colder than a year ago, and customers may have been taken aback by their natural gas bills, he said.
This is a problem that crosses the nation.
"It's not just Kansas Gas Service," Lambert said. "This is happening with all the natural gas distributors across the nation, it's coast-to-coast."
Lambert noted that natural gas is a commodity, traded on the New York Mercantile Exchange Market.
"It's very sensitive to things that would cause the market to fluctuate," he said. "It's an emotional thing. If there's a threat of shortage that might drive the price up, and cold weather can drive the price up."