Branch bank nearing completion
In five months, customers of First State Bank and Trust will have an opportunity to bank on Lawrence's west side.
A 3,400-square-foot branch bank is under construction at the southwest corner of Sixth Street and Monterey Way. The full-service branch will feature three drive-up lanes and an onsite automatic teller machine.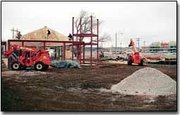 The projected completion date for the bank is June 28.
The Tonganoxie-based bank's branch at Sixth and Vermont streets downtown will remain open, according to Vickie Randel, president of the Lawrence market. The bank, which has had a presence in Lawrence for nearly four years, was eager to expand in the growing city and is pleased with the location of the new branch, Randel said.
"We looked at a variety of sites before we settled on one," she said. "That particular one seemed to be in a growing part of town, both in terms of residential as well as commercial. We liked the fact that it was closer in on the Sixth Street corridor."
First State also has two sites in Tonganoxie, as well as offices in Basehor, Wichita and Clearwater.