Wrestlers finish fourth in tourney
For the fourth time in as many tries, the Tonganoxie High School wrestling team finished in the top four at a tournament, this time at the 10-team Osawatomie Invitational.
On Saturday, the Chieftains finished in fourth place behind Osawatomie, Knob Nobster and tournament champion Spring Hill.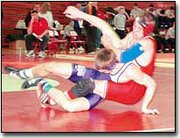 On the way to the fourth-place finish, the Chieftains placed 10 wrestlers in the top four of their weight classes.
"We started out slow, but picked it up in the semi-final round and placed several kids," said Dean Moss, assistant coach.
Heavy weight Tony Miller was the team's high finisher. MIller took second after losing 5-3 to Basehor-Linwood's Matt Gillette in the finals.
Taking third were: Willy Altman at 140, Steve Adcox at 145 and Andrew Miller at 189. Taking fourth at the tournament were: Chad Starcher at 103 pounds, Travis Andrews at 112 pounds, Josh Ferris at 125 pounds, Pat Weyer at 152 pounds and Mike Andrews at 160 pounds.
Despite those 10 medals, and despite finishing in fourth where he expected them to, Coach Bill DeWitt said his wrestlers were not in top form at Osawatomie.
"I'm not displeased with how we finished," he said. "But we didn't wrestle anywhere close to our capabilities."
He said that many on the team were sick. And the coaches haven't been exempt from illness.
"I even had it Friday night," DeWitt said.
Besides seasonal illnesses that have kept many on the team from full-strength, the coaches have been putting the wrestlers through exhausting practice lately to get the team in top shape for post-season.
DeWitt said the wrestlers had an extremely tough practice on Friday.
Not that he's making any excuses.
"Several of the kids faced some good athletes," DeWitt said. "I've got to give them credit for going out and doing what they can."
The team's next match will be 5:30 p.m. Thursday at Lansing.