It's a safe bet that many junior high and some high school girls have Backstreet Boy or 'N Sync posters and memorabilia plastered throughout their rooms. Katie Brest fit that description five years ago, but the affection wasn't a passing fad.
Brest, now entering her second year at Kansas City Kansas Community College, is more adamant about the Backstreet Boys now than she was when she was 15.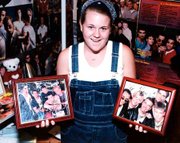 "I've been a fan since their first single hit five years ago," Brest said. "Their music is powerful in what they say and how they act."
Brest has attended three concerts two at Kemper Arena and one at Memorial Hall. She will be present for their return to Kemper on Aug. 27.
I'm feeling light-headed
Brest has numerous Backstreet Boys posters, garb and memorabilia, but one object is more sacred than any other drumsticks from band member Nick Carter she received at one of the band's concerts.
"Nick did a solo on the drums and I was the only one in the crowd standing up," Brest said. "Nick noticed and told the drummer and he gave them to me.
"I almost fainted."
Along with significant drumsticks and memorabilia, Brest, of course, has all three Backstreet Boys albums their self-titled album, Millennium, and Black and Blue.
She wants it that way
Although Brest is Backstreet enthusiast, her affection isn't just because the group is a boy band.
After completing her business degree from KCK, Brest plans to move to Florida to pursue a career in recording music.
"I've never had a preference of music, I just love music," Brest said.
No one is as high on her list as the Backstreet group, but Brest enjoys R&B and hip-hop. One singer, though, doesn't impress her. "I don't really like Brittney Spears," Brest said.
Brest already has an apartment in Winter Park, Fla., roughly 15 miles from Orlando which happens to be the hometown of her favorite group.
"Everyone tells me I'm going there because that's where they're from," Brest said. "If I saw them I would probably pass out and that would be great."
Actually, Brest's main reasons for the move to Florida are that it's a prime location for the music industry and she lived there until her family moved to Tonganoxie when she was 8.
Following a dream
The move to the Southeast could come with some challenges.
Brest said she hopes to get an education from the Full Sale Recording Studio in Orlando even though the price tag is large.
"It's really expensive," she said. "I want to live there a year so I have residency."
In the meantime, Brest plans to work in studio in the Orlando vicinity. Eventually, she plans to own a recording studio. Her parents want her to create a studio in Kansas City, but Brest said that's questionable."The music scene and Kansas City clash," Brest said. "There's not a big industry there."
Regardless, Brest said the business is a difficult one to get into, but plans to pursue it aggressively.
"It's who you know and what you know," Brest said."
All by herself
Unfortunately for Brest, her friends don't share her same enthusiasm for the Backstreet Boys.
"I freak out my friends," she said.
One friend did give her a thoughtful Backstreet Boy gift well, sort of.
"My best friend's birthday present to me is that she's going to the concert with me," Brest said.