Chieftains turn up heat during tourney
Tonganoxie's 7-on-7 football tournament Saturday had just three teams, but the smaller field might have been better for the Chieftains.
KC-Washington was supposed to join McLouth, KC-Piper and Tonganoxie, but the tournament became a three-team field when Washington was a no-show.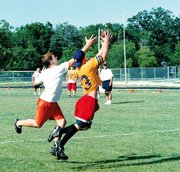 "It enabled the teams to focus," THS coach Mark Elston said about Washington's vacancy. "Each team played two games in a row and then was able to sit out a game. It was a fun atmosphere."
Even more fun for Elston was his team's performance. The Chieftains looked rugged more than a week ago, but Saturday's performance was a new look.
"We made huge strides," Elston said. "The kids concentrated and competed the best they have this season."
The team seemed to improve on both sides of the football. Offensively, Elston said the Chieftains ran well after catching passes, and quarterbacks and receivers were reading defenses. The team didn't have a four-second call, a rule that states quarterbacks must throw the ball within four seconds of the ball being hiked.
Defensively, Elston saw more intensity.
"We really got tough inside the 15," Elston said about the defense. "We had three interceptions and stopped a team on downs."
Elston also saw some individual highlights. Steven Adcox played at outside linebacker for the first time, a position Elston thought he played well. Justin Lacy caught the ball well, and Ross Starcher and Troy Morando were seeing the field well, Elston said.
"We made dramatic improvements from last week," Elston said. "It must have been the homefield advantage."
A change of scenery was a plus after playing at Basehor every weekend.
"They liked the new competition," Elston said. "It was starting to get stale for the kids. It breathes a little life into things."
Tonganoxie won't be involved with 7-on-7 competition until later this month, and only if the Chieftains play host to another tournament July 28 against the same teams. If the tournament occurs, it will coincide with the lift-a-thon that day.
More like this story