Speedway revs up for second race weekend
Despite an anticipated 85,000 visitors to Kansas Speedway this weekend, Tonganoxie traffic is expected to flow smoothly.
At least that's what Tonganoxie Chief of Police Ken Carpenter thinks.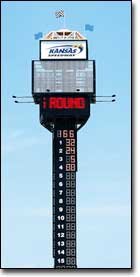 The inaugural Speedway event on June 2, which drew 45,000 visitors to the Speedway, had a minimal effect on Tonganoxie traffic, Carpenter said.
"I would compare it to rush hour traffic," Carpenter said. "It was about the same flow from the time the race was over for about three hours."
The one clog, Carpenter said, could be at the city's only stoplight at U.S. Highway 24-40 and Kansas Highway 16.
"I'm hoping the signal light on 24-40 and 16 will handle the flow of traffic," Carpenter said. "If it doesn't, then we're prepared to direct traffic."
Carpenter said that following the June 2 race, he observed traffic at the stoplight for an hour.
"Nobody had to wait through two lights to get through," Carpenter said. "People will probably have to wait a little longer this time, but I don't think it will be too bad."
However, just in case, the city of Tonganoxie, which usually has one or two officers on duty, will boost its patrol to four officers on Saturday night and five on Sunday night.
Leavenworth County Sheriff Herb Nye said that during the June 2 event, the department put the full traffic division, and additional officers, on the road.
"This time we may have one or two extras," Nye said.
He said, however, more traffic was observed.
"But it wasn't any worse than rush hour traffic at 5 p.m.," Nye said. "So we're confident that things are going to be OK."