Three Tonganoxie youths earn Eagle Scout honors
Three Tonganoxie Boy Scouts, Chester Henre, Andrew Miller and Anthony Miller, were promoted to the rank of Eagle Scout at a June 2 ceremony.
To obtain the rank of Eagle Scout, each had to earn at least 21 merit badges, served six months of leadership and completed a service project to benefit the community.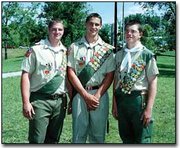 An audience of 300 gathered at Reusch Memorial VFW Park watched as representatives from the Army, Air Force and Navy were present. To honor the Eagle scouts, a United States flag was flown over the U.S. Capitol in Washington, D.C.
Tonganoxie Mayor John Franiuk presented the Eagle scouts with a certificate for their service to Tonganoxie.
Chester Henre is the son of Mike and Nancy Henre, and Andrew and Anthony Miller are the sons of Ken and Tammy Miller.
The service projects were planned to benefit the community.
For Chester Henre's project, he raised 29 sunken headstones at the Eagle Cemetery on County Road 30. His project was completed in September 2000, and he earned 30 merit badges.
Andrew Miller's project was to clear brush from the fence rows and around the headstones at Summit Cemetery, which is off of County Road 9. His project was completed in March 2001, and he earned 28 merit badges.
For his project, Anthony Miller painted the newly built shelves at the Leavenworth County Fair for the open class home economic department. The previous shelves were destroyed in the May 11, 2000, tornado. This project was completed in October 2000. Anthony Miller earned 26 merit badges.