Chieftain cheerleader makes national scene
Samantha Hassinger heading to Hula Bowl in Hawaii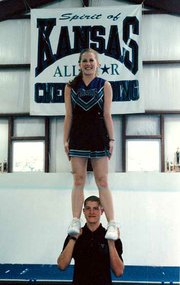 Samantha Hassinger became part of an elite group when she was named to the National Cheerleading Association's all-American squad two weeks ago in Emporia.
"I went two years ago as a sophomore," Hassinger said about the NCA camp. "I was nominated, but didn't make it, so that's been a goal of mine."
But the incoming Tonganoxie High School senior's accomplishment wasn't her only national recognition.
Before being named an all-American and later to the all-American squad, Hassinger has been part of the Spirit of Kansas, a competitive team that competes nationally.
Hassinger said the team is comprised of numerous members from northeast Kansas and it meets in Lawrence every Sunday for three-hour sessions.
The squad competed in the spring in Chicago for the Windy City Classic and took first place in the event, which possibly will be televised by ESPN.
The all-Star squad, which Hassinger has been on for three years, usually competes in a national and two regional events each year. She also competed in Florida two years ago.
Hassinger will now earn more frequent flyer miles with her new status. The NCA All-American squad will perform in January at the Hula Bowl in Hawaii. The group is also scheduled for a trip to Europe, but Hassinger said she probably wouldn't make that trip because of expenses.
Funds are needed for both squads Hassinger is involved with, so she is looking into generating money toward her trips.
She said the Hawaii trip will cost $2,000.
"We're trying to have someone sponsor me," Hassinger said.
Cheerleading got in Hassinger's blood when she joined the school squad in the sixth grade. She has cheered ever since, including three years on the Spirit of Kansas squad.
Hassinger hopes to continue her sport in college Kansas and Fort Hays State are on the top of her list.
Her next competition is with the Spirit of Kansas team, which will be competing in the Sunflower State games this month at Dance City in Lawrence.
Hassinger's coaches are David Byrd, Jimmy Godfrey, Hallie Hedrick and Lori Tachtrop.