Tornado's eye
Kansas Speeedway's infield security officers say they're thrilled to be in the center of the action
Larry Shepek's on a summer vacation he'll never forget.
For three weekends this summer, Shepek, who owns Laming, Tice and Shepek Insurance in Tonganoxie, is wearing a different hat director of infield security at Kansas Speedway where he oversees the 50 to 80 security officers. Shepek said his principal duties are to serve as a problem solver and to foster public relations.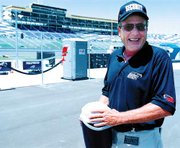 "I could take my job and put it on eBay and sell it for $10,000." Larry Shepek
With each race, his workload grows, as the number of people with credentials admitting them into the infield area grows.
"We had about 500 credentials with the ARCA race in June, we'll have about a thousand with this race and come the NASCAR and Winston Cup we're estimating there will be from 8,000 to 10,000 people with credentials for this area."
The infield area, which takes up the center of the Speedway's 1.5-mile tri-oval track, has garages for car repairs, a University of Kansas Medical Center clinic, a helicopter pad, a media center and parking for trucks that haul racecars to the Speedway.
During race weekends this area is a home-away-from-home for race team members.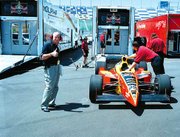 Last Thursday afternoon, as the continual rush of racetrucks roared onto the Speedway's track, filling the infield with a constant cacophony, Shepek said he's fortunate to have been selected for his position.
He thought about the idea when attending a Speedway tour with Leavenworth Area Development members last fall. Tom Wilson, Speedway security manager, informed the group about planned security. Shepek later contacted Wilson, inquiring about positions.
But chances are, even without the job, Shepek would have been there anyway.
"I had already bought and paid for tickets," he said.
But working in the infield is better than sitting in the grandstands, he said. In fact, he said, it's a job to be envied.
"I could take my job and put it on eBay and sell it for $10,000 a day," Shepek said.
FELLOW FAN
Kent Wilson, who lives and works in Tonganoxie, has a security job to be envied working from 6 a.m. until 6 p.m. in pit row, where the cars head to and from the track.
This means standing under a blazing summer sun and carrying a cooler of water to stay hydrated. The constant noise is music to his ears, Wilson said.
Although it's recommended that hearing protectors be used, he doesn't wear them. "I don't use them because I like the sound of the cars."
The work pays $8 an hour, less than Wilson makes when he paints and repairs houses or sells stock trailers at Bar W Trailers.
"But I'd pay them to let me have the job I have here," Wilson said. "I'm such a big fan."
Wilson has been an avid race fan since he was 14.
In fact, in February when Dale Earnhardt was killed at the Daytona 500, Wilson was in the stands. He saw the smoke from the crash. It was later, when standing in line to board a bus to leave, that Wilson learned Earnhardt had died.
MANAGING THE CROWDS
Bobby Hunter came out of retirement to work in security during race weekends. He spends his race days at the infield garage area ever on the watch for appropriate passes and clothing, which on Saturday meant long pants, shirts with sleeves and closed-toe shoes.
The work is different from most jobs, Hunter said.
"There's a lot of standing that kind of wears on you, especially if the hot weather comes," he said.
The infield crowd, for the most part, is a pleasure to work with, he said.
"Most of them are generally pretty cordial, and most of them have been around racing so much that they know what's expected of them," he said.
Shepek agreed.
"The unique thing about the racing teams and the drivers are that they are no different than you and your neighbors," Shepek said. "They have the same fun and they tell the same jokes they just drive faster."
WHERE THE ACTION IS
Near a gate close to infield garages, Tom Putthoff, also from Tonganoxie, works security.
Putthoff, who works at General Motors in Kansas City, Kan., said he applied for the job at the suggestion of his brother, Tonganoxie police Sgt. John Putthoff.
"I've been a race fan all my life," Putthoff said. "This track has been a long time coming."
Working with Putthoff last Thursday was Linda Zacher, Tonganoxie city planner. She was recruited, she said, by Larry Shepek. Zacher was training in the infield on Thursday, but later would work the concourse area.
So far, Zacher was happy that she was involved at the Speedway. But she said it had been a while since she had attended a car race.
"I haven't been to a race since I was 11 years old and we went to Lakeside," she said.
With Zacher and Putthoff was Jack Cooper, Kansas City, Mo. Cooper, who said he could have attended the races and sat in the grandstand, chose otherwise.
"I have tickets for up there," he said. "But I'm not going to use them. There's a little bit more going on down here and being a big race fan, it's a dream come true."
Shepek termed the work an "intriguing experience" and said he's thrilled with the fast-paced atmosphere. It's the experience, and not the pay, that matters, he said.
"What's important in anything in life is who you are and where you are," Shepek said. "And here, you're in the eye of the tornado."