County attorney: Charges imminent in Eldridge case
Private club operated by former county commissioner under fire
The Leavenworth County attorney said he anticipates filing a complaint by the end of the week against a former county commissioner, alleging he violated a resolution against nudity in public places.
Frank Kohl, county attorney, said Tuesday that he expects his office to file a criminal complaint against former County Commissioner Wayne Eldridge, who operates Whispers Cabaret, a private club on Kansas Highway 7 northeast of Basehor.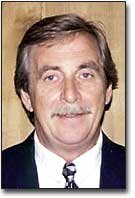 "We would be charging the operator, which would be Wayne, with the violation of the county resolution against nudity and then the dancers who were performing at that time, if they were violating the ordinance from the standpoint of what they were wearing, would be charged individually," Kohl said.
Last August, Leavenworth County commissioners unanimously passed a resolution that bans nudity and certain sexual acts in public places. At that time, Eldridge was chairman of the commission. He was defeated last fall in a bid for re-election.
Kohl said it's possible that dancers could face prostitution charges.
"If you for a sum of money perform some kind of sex act or some kind of stimulation of the genital area of the customer or client, that can be a violation of the state prostitution statute," Kohl said.
In March, two plainclothes sheriff's deputies from Brown County were sent into Whispers to investigate allegations of nudity. The deputies, according to Kohl, saw lap dances and nudity.
Eldridge said on Tuesday that he would challenge any charges in federal court.
"The only thing you can do is take it to federal court," he said. "It depends on what they file. I don't think that resolution will hold up. I was all for it at the time."
He said the resolution pertains to public places.
"A private club is not considered a public place," he said. "A private club is not public."
Meanwhile, he said, the club continues to operate.
"It's just like it's always been," he said. "I guess we've got about 15 or 18 dancers."