County seeks outside manager for nursing home
In what clearly was a difficult decision, Leavenworth County commissioners agreed last week to seek a group to operate and manage the county infirmary.
The infirmary, which is a nursing home that is operated by the county, recently has been a financial drain on the county. Several times, commissioners have transferred money from the county's general fund budget to the infirmary.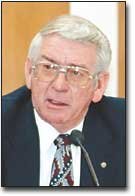 Last year, the transfers totaled $89,000, while commissioners have approved $107,500 in transfers through June 20 this year.
"It's costly," said Commissioner Bob Adams. "Yet if we don't stay in the business, I want to make sure long-term care in Leavenworth County is addressed."
Commissioner Joe Daniels said he thought it was worth finding out if any other group was interested in taking over the nursing home, which now is home to about 35 patients.
"We don't know until we try," he said. "It's an effort to see what our options are."
Commissioner Don Navinsky paused as he decided how to vote on the motion by Daniels to seek an outside manager for the home.
"My wife claims I have no emotion, but this is a decision between the right side of the brain and the left side of the brain," he said.
On one hand, he feels compassion toward residents of the home, he said. At the same time, he's acutely aware of the cost involved in its operation. So he joined Daniels in agreeing to seek an outside manager. Adams voted against the measure.
So now, the county will begin seeking a company or group to operate and manage the home. That group would not have to pay rent and the home is to operate for at least two years. In addition, a plan must be devised to handle how meals will be prepared for the Council on Aging and the Leavenworth County Jail. Presently, they're made at the nursing home.
Commissioners said that after immersing themselves in 2002 budget discussions for the past few weeks, they have little choice but to seek outside management of the nursing home.
"It's not my druthers, but I think it's something I think we need to explore at this time," Navinsky said.
Adams said the county was in a difficult situation because of previous bad management of the home.
"I only wish we could have addressed this five years ago," said Adams, whose 89-year-old mother is a resident of the home.
"It burdens me," he said. "It burdens me to talk about it."
Adams said he's concerned the commission's vote will send a bad signal to county employees at the home.
"I am in favor of the idea of seeking ways for us to get out of this situation, get out of the financial predicament," he said.
But he also said, "I am very much in favor of taking care of our older people. I am today what they were yesterday, and tomorrow I'll be what they are today."
The commissioners' decision came after talking with K.J. Langlais, who began work as temporary administrator at the home in March. Langlais was hired after the home was cited by the Kansas Department of Health and Environment for several problems. The state banned the home from admitting new patients for about six weeks. Those problems now have been corrected.
She said that if the home were to close, other nursing homes in Leavenworth County would be at capacity after taking patients from the county-run home.
Before Langlais was hired, Adams said, commissioners were faced with the decision of whether to close the home or bring it back within standards.
The home is licensed for 74 patients, but the number of people living in the home is only about 35. Langlais said the home cannot be financially solvent with a patient load that low. A home must be at about 85 percent occupancy to break even.
She said if the county would add onto the home and make some improvements, the number of patients would increase.
"I believe you would fill the home and get back to where you are running in the black," she said. '' It could be a very viable thing. It's not going to happen overnight. Is it going to happen without a major investment? No."