Garden extraordinaire
Countyh's director of planning and zoning finds plenty to plan in his own backyard
By day he works in a windowless office in the basement of the Leavenworth County Courthouse.
But by night he works amid the flowers, toiling in his garden until long past the sun has set.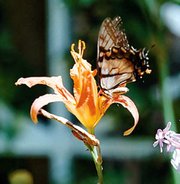 John Zoellner, Leavenworth County director of planning and zoning since 1997, lives with his wife, Sharon, in their rural Johnson County home near De Soto.
This is where a once-overgrown, 2.25-acre wooded hilltop is taking the shape of an intricate garden outlined with meandering flower-bordered paths, a rock-lined creekbed that traverses the property, an arbor, a fountain and an area for a Japanese garden.
It has been nine years since the Zoellners, who had lived in Lawrence, decided to move to the rural site. For John Zoellner, it has been nine years of intensive gardening.
In part by necessity because of a garden plot already generous with mature deciduous trees, Zoellner designed his garden with plants that will tolerate shade.
He's learned, to his delight, that this means he can cultivate daylilies, Asiatic lilies, peonies and iris, some of his favorites.
"I was pleasantly surprised that the lilies did as well as they did here in the shade," Zoellner said.
The Zoellners, who have lived in four different homes since 1980, have toted their garden plants with each move. This means that Zoellner, who is 46, has had some of his flowers for half his life.
Preparing for growth
A year ago, his garden grew.
Right now, Zoellner estimates he has several thousand daylilies, many of them given to him last year.
Originally, the flowers were grown by a priest outside the rectory of St. Joseph's church in Topeka, where Zoellner's grandmother is a church member.
But in the last decade, the priest had been unable to do much work in the garden. And when he went into a nursing home a year ago, the new priest asked that the garden be removed. The garden contained thousands of daylilies. Some of the varieties were known and some had been hybridized by the priest.
Zoellner's grandmother, Agnes Kamer, from whom Zoellner said he had inherited a love of plants, suggested her grandson as the person to head up the garden removal project.
So, for three months last summer, John and Sharon Zoellner spent their Saturdays at the rectory and church, digging up and dividing clusters of flower bulbs, labeling them as to the color of the bloom, and leaving bulbs at the church for the parishioners to take. Zoellner took some of the bulbs to a church in Overland Park.
And what was left over, they brought home.
Zoellner said he's glad he was able to give the priest's flowers a new home.
"It's his legacy," Zoellner said. "I think it's what he would have done if he could have."
All in the planning
This year, the newly planted bulbs have been brought back to life. Colors sprinkle the garden paths, luring butterflies and insects. One can only look at the maze of pathways carved into the wilderness and wonder at the amount of work it has taken.
"It is the infrastructure that takes so long," Zoellner said.
To make the paths, Zoellner first removes the sod. Then he scoops out the interior of the pathway to facilitate water drainage. Next, he edges the path's sides with rocks that he picks up on his property, and after that he covers the pathway with river gravel, gravel that he buys in four- to five-ton quantities.
Zoellner said he looks forward to sharing the garden with the public when it's completed. He estimates that he's about three-fourths done, and says it's not ready for the public yet.
"I look at it like art," Zoellner said. "It's my canvas and I don't want anybody to see it until I'm done."
His goal, he said is to have it look like a miniature Powell Gardens, the gardens near Lone Jack, Mo.
"I always wanted to live in a botanical garden," Zoellner said. "I didn't think they would want to hire me to run one, I just decided I would make my own."
Constructive time
While gardening seems a natural fit for the soft-spoken planning director, his other interest, karate, may not. But Zoellner, who is a first-degree black belt, spends two nights a week honing karate skills in Johnson County.
Sharon, who works as deputy school superintendent for the De Soto school district, also finds plenty to fill her time. The school district, she said, covers 100 square miles, and includes 60 percent of Shawnee.
John Zoellner said he sees the gardening as a break from his work and as a way to relieve stress.
So, even though he spends weekday daylight hours inside a windowless office, he makes up for it at night.
Zoellner stops from his Saturday morning task of transplanting iris bulbs, surveys the vast expanse of his garden and sees what still needs to be done.
"Most nights, the dusk-to-dawn light is on and I'm still working," Zoellner said. "I get out in every little bit of daylight that I can."