A rural Leavenworth County home was destroyed Monday afternoon by a fire that started in a faulty electrical outlet.
Rick Huhn, Delaware Township fire chief, said the fire was caused by an electrical outlet in one of the three bedrooms in the home at 24408 187th Street.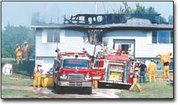 "It was a faulty outlet," he said.
The outlet caught fire, and then caught a nearby wicker table on fire, Huhn said.
The house, which is about three-quarters of a mile north of the Leavenworth County shop on County Road 5, received about $170,000 in damage, Huhn said.
"It's totaled," he said. "They're saving pictures and stuff, but that's about all they're going to save out of it."
Neighbors called in the fire about 3:20 p.m. Monday.
"We got called when the front windows blew out of the house," Huhn said. "It was engulfed when they called us."
No one was at home when the fire started, but firefighters did not know that.
"They thought there was a 15-year-old at home," he said. "His car was there, and they thought he was in the house."
Because of the breadth of the blaze, firefighters were able to search only two rooms of the modular split-entry home, which is owned by James and Judith Glenn.
"It was determined he was at basketball camp," Huhn said. "That was our primary concern."
A total of 24 volunteer firefighters from Fairmount, Delaware, Stranger and Alexandria townships responded to the call.
A newly formed Delaware Township Fire Department Auxiliary also responded to the fire, providing cold drinks to parched firefighters.
"It's a brand new auxiliary," Huhn said. "We baptized them under fire."