Tonganoxie boy hits it big with Outlaws
A little help from Tonganoxie hasn't hurt the first-year Lawrence Outlaws baseball team.
The 11-and-under team is 38-12 and includes Tonganoxie's Todd Brown, who plays third base for the United State Specialty Sports Association team.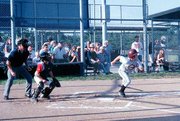 John Gress, a 1970 Tonganoxie graduate and current Lawrence resident, is an assistant coach and manager.
The team is made up of primarily Lawrence players, along with Brown and one player each from Eudora and Baldwin.
Gress, who said he was frustrated with the Douglas County Amateur Baseball Association, stopped coaching that organization and formed his own team.
Gress considered being the head coach, but Rod Sharp of Lawrence, who has no sons on the team, took the position. Rick Rosenstengle, also of Lawrence is also an assistant. Along with gathering coaches, Gress needed players. He started searching for members in January and then had try-outs.
Former Tonganoxie high school baseball coach Chris Herron recommended Todd to Gress, and Todd is now the Outlaws' third baseman, although he said he plays second and shortstop on occasion as well.
Todd said his start with the team was a change of pace from playing at Tonganoxie, but he said he got better with time.
"Coach Rod helped me a lot along the way," Todd said. "I've gotten better as the season's gone by."
The Outlaws could play roughly 60 games when the season concludes, a hefty number for an 11-year old baseball player. Still, Todd isn't fazed by baseball occupying much of his time.
"It hasn't bothered me much," Todd said. "Baseball's my favorite sport in the world."
Todd's enthusiasm has been noticed. Gress said he's a strong component for the Outlaws.
"He's been a very stable kid," Gress said. "He's been very positive for our team.
"We've had tough tournaments and he's been hitting pretty well. Defense is where he's been standing out the most."
Despite a slow start, the Outlaws finished the Wyandotte County League in second place at 11-3, part of a season that has exceeded Gress' expectations.
"When the season started, I thought 'if we come out and play .500 ball, we'll be doing really good,'" Gress said. "They're a great bunch of kids; I hope we don't lose any of them."
The rest of the season comes in the form of tournaments. In seven tournaments, Lawrence has won three titles, taken second twice, third once, and fifth in the USSSA 3A State Tournament last weekend in Olathe. The team qualified for the USSSA World Series starting Sunday, July 22 at Mid-America Sports Complex in Olathe. The tournament concludes July 29.
In the State tournament, the team went 2-2. Lawrence lost to the Topeka Thunder 5-2 and the Easton Tigers 6-5, but blanked the Overland Park Panthers 7-0 and rallied from a 7-1 deficit and defeated the Overland Park Yankees 8-7.
After the Olathe tournament, the Outlaws will be home for World Series tournament July 31-Aug. 5 in Lawrence.
Along with Todd, the Outlaw team members are: Adam Rock, E.J. Swanson, Craig Rosenstengle, Jordan Dreiling, Joe Kornbrust, Caleb Gress, John Wilson, Todd Brown, Rafferty Thompson, Ryder Werts, Zachary Durr (Baldwin), and Kelson Boyer (Eudora).