4-H'ers hit mark at annual shoot
Some participants in the 4-H Shooting Sports Competition grabbed multiple ribbons Saturday at the Tri-County Gun Club northeast of Linwood.
Cody Owsley of Tonganoxie added his ribbon to some hardware. Cody, who was reserve champion in intermediate shotgun and champion in air rifle on Saturday, took second place in standing for alternates at the Daisy and Jaycees International BB Gun Championships on June 27 through July 1 in Colorado Springs. He also participated in the open rifle shoot.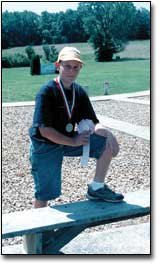 Cody, part of the Leavenworth County Shooters, was one of two alternates along with the five-person roster. A shooter since January, Cody also has competed in regionals at Leavenworth and state at Hays. Although he's been competing for about six months, Cody has some background in the sport shooting.
"My uncle and grandpa shot all the time," Cody said. "I was never big enough to hold up a gun."
Cody has met the size requirement and competes in BB, air rifle and shotgun, although air rifle is his favorite. Typical practice for Cody is every other day, which picks up usually two weeks before competitions. The Tonganoxie youth also practices on a range set in his basement.
Points are accumulated from three positions prone, or sitting, standing and kneeling. BB competition is based on a 400-point scale, and shotgun has a 25-point maximum. Archery also was offered at the shoot and has a maximum of 10 points per target.
On Saturday, the air rifle was scored as a half-match. Maximum score was 300 as opposed to the regular 600 because time was the issue in that competition. Randi Lutz, 4-H sport shoot coordinator, said a normal match would take two hours per person and the half-match is still a legal score.
Age divisions range from 9 years old to 18 in the competition that is a pre-fair event.
Lutz said competition went well Saturday morning.
"Some of these kids haven't shot in quite a while," Lutz said.
The sport shoot had 57 participants. A black powder gun competition will be added for next year's event.