Fair days coming
Boling 4-H family members go full-speed ahead toward Leavenworth County Fair
Kara Ritchey's 4-H year got off to a bumpy start this spring when her cow kicked her uncle.
"So we couldn't take my cow to weigh in, and we sold it at the auction in Atchison," she said. "I was disappointed because that's kind of my favorite project."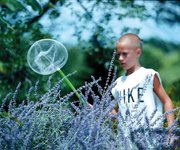 The kick was no laughing matter for the uncle, either, said Kara's mother, Carrie Ritchey.
"It knocked out two of his knee ligaments," Carrie said. "He had to have surgery."
But 4-H members learn to take things like this in stride.
"I'm hoping to get back into beef next year," Kara said.
Family tradition
Kara, 12, her sister, Kylie, 15, and brother, Kenneth, 9, live in rural Lansing and are second-generation members of the Boling 4-H club. Their parents, Kurtis and Carrie Ritchey, were former 4-H members. Carrie grew up on at the New Dairy farm just down the road from where the family lives now.
Kylie, who is president of the Boling 4-H Club, and her siblings, plan to turn the fair into a full week of activities once again.
Once ensconced in the county fair, the Ritchey children plan to stay until the very end literally spending every waking and sleeping moment at the fair.
As they did last year, the three children will camp at the fairgrounds in a tent they pooled their money to buy. By the time the kids hit the sack in the tent at night, they're worn out, they say. And always, the next day will start early, or as Kenneth says, "with the rooster in the morning and we're excited because it's a whole new day."
Preparation
As the fair days approach, the workload at home swells. There are dresses to sew, clothes to buy, hogs to train, cows to lead and bugs to catch. Everyone in the family joins forces to get everything ready on time.
Kylie's and Kenneth's projects include showing Holstein cows that they've raised from calves. Each day the children harness the 1,000-pound cows and lead them around the farmstead.
Like Kara, Kylie said this is her favorite project.
And all three of the Ritchey children will show market hogs at this year's fair. They purchased the two-month-old hogs this spring and have been working with them since.
On a recent 100-degree summer afternoon, the children scooted their pigs out of the mud, ignoring resounding oinks and grunts of protest.
Two of the pigs were fairly compliant, and the third, which was Kara's pig well, he just wasn't having a very good day. Or, as Kara, said of her disobedient market hog: "My pig's gone psycho."
Raising livestock teaches children tolerance, said Carrie Ritchey. And they learn about the care that all animals need.
"It's having the responsibility every day of getting out there and taking care of it," Carrie said. "They've seen animals die and they know there's a lot to learn about life in raising livestock."
Thrill of competition
Spread across the kitchen table are bright pieces of fabric, pins, needles and scissors. Kylie and Kara are working on their sewing projects projects that to please the judges, must look as neat on the inside as on the outside. Moreover, the clothes will have to be a perfect fit, as the girls will model their creations. Also, Kylie and Kenneth are participating in the 4-H buymanship program, which means they get to shop for their clothes.
Kenneth's prize hobby is his insect collection. His mother said the whole family, and others, help him locate his finds.
"Our friends think we're lunatics," Carrie said. "I belong to a Wednesday morning Bible study group and I've told everyone in there that if they see unusual bugs to collect them and we'll come and get them."
Sections of the freezers are filled with plastic bags that contain insects. His mother said this is along Kenneth's natural area of interest.
"He's always been interested in little critters and stuff," she said. "That's his and his dad's project together."
It's on the record that Kenneth has reason to be proud of his entomology displays:
"I won champion twice and this is my third year doing it," he said.
Winning isn't everything, but it's a part of the fun, the children said.
"It's always fun to try to beat somebody," Kara said. "If somebody wins one year, you always want to beat them so you can take their place."
As a whole, the Ritchey kids say the fair is tops in their book.
"That's what we look forward to," Kylie said, "The whole summer we say, 'I can't wait until the fair, I can't wait until the fair.'"
Kara said it's the perfect ending to summer.
"I like the fair because it's right before school starts and it's the last thing you do in the summer it's good to end your summer on a good note."
And Kenneth, he said he doesn't even mind the heat.
"If you sit in the barns and relax you don't notice it."
And just in case things do get a little warm, Kenneth said there's always one cool and tasty alternative snowcones.