Running the show
Rural Tonganoxie woman directs 2001 Sunflower State Games
Vicki Hill, operating on little sleep and ready for a shower, stood near James Naismith Court in sultry Allen Fieldhouse on Saturday and watched a hectic first weekend of the Sunflower State Games wind down in Lawrence.
With one hand holding a two-way radio and two eyes on a basketball game, Hill viewed not only Kansas' Olympic-style event, but also her own she's the director of the Sunflower Games.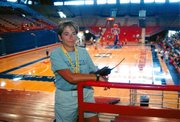 Hill, who lives in rural Tonganoxie, is in her sixth year as part of the Games, and in her second year as director. Six years ago, she wanted to get involved with the event. After seeing information in a Lawrence restaurant about volunteering for the Games, she and her two sons, Luke and Pete, became part of the volunteer staff.
Her involvement went from volunteer the first year to part-time for three years and led to a full-time position as director. The term full-time is more literal during the Games.
"I've had eight hours of sleep in three days," Hill said.
As a part-time employee, Hill was involved with registration, the web site, volunteers and publications. In her current position, she's involved with the same aspects and one more thing sponsorship. The event is a non-profit organization.
"The hours aren't much different," Hill said. "But there's a huge weight on your shoulders."
Hill leads what is arguably a fairly large staff. The event involves 400 volunteers and 20 college interns majoring in sports administration, journalism and communications, along with one history major. Interns rotate throughout the year.
"I couldn't do it without them," Hill said.
Hill, meanwhile, works about 60 hours each week starting in May and then settles into a more regular schedule for the remainder of the year. The position has been a major change in careers. She said she had held various jobs before working with the games.
"Nothing I've ever done has prepared me for this," Hill said. "I had no idea it would lead to this."
Hill has some background in sports. She and her husband Dan coached recreational soccer in Tonganoxie for 10 years and said that if her sons were playing in any sport, she was at almost every game.
Hill's enjoyment of sports spills over into the Sunflower State Games, which started in 1990 as part of the Governor's Council on Physical Fitness. That program no longer exists, and the event is now a non-profit organization.
This year's competition has about 7,000 participants. Out of 40 state games, the sunflower version ranks in about the middle in participation. New York was the pioneer in the event, starting the Empire State Games in the early 80s.
Directors from all state games meet for a convention annually. Hill said she has worked closely with directors from Iowa, Nebraska and Missouri.
"They've helped a lot," Hill said. "It's not a competition between states. I don't mind asking questions of other directors."
The Sunflower State Games has been successful for the city of Lawrence, but its term as host will end after next summer. The city will be working on a new bid for the Games. Wichita and Olathe are other cities showing interest in Games starting in 2003.
Hill is unsure if she will pursue continuing to be director if the Games leave Lawrence, but she might not have to relocate with the event.
"The office doesn't always move," Hill said.
Despite the extended hours each July, Hill finds the event gratifying. She has enjoyed learning new sports among the 25 offered in the Games. She also enjoys seeing so many athletes participate.
"There's an 81-year-old who keeps coming back to run," Hill said.
Hill will also have her eyes on her sons next weekend. Luke, a May graduate at Basehor-Linwood, and Pete, an incoming junior at BLHS, will compete in the open division of 3-on-3 soccer next weekend. Other members of that team are Jason Schrick and Kevin Elder, also from BLHS.
Temperatures might be high again next weekend for the Games, but Hill said that luckily no one has been injured because of the heat. She said the athletes do a good job of rehydrating themselves.
When the Games conclude next Sunday, Hill will look to do her own re-energizing. After working to finish up post-Games details and starting up for next year, Hill looks to take some time off.
"I'll be taking a vacation," Hill said, indicating it would be in August. "It will be for a couple weeks."