Tonganoxie man, 58, dies in helicopter accident
A Tonganoxie man who last year took up flying at the age of 57, and who recently compared flying in a helicopter to taking a "magic carpet ride," died Sunday in a helicopter crash.
Lenny Lawson, 58, and Richard Inlow, 59, Bonner Springs, both died in the crash, which occurred about 11:30 a.m., Sunday in a farm field outside of Creighton, Mo. The accident site is about 60 miles south of Kansas City, Mo.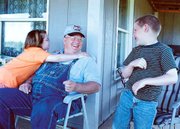 Tony Molinaro, Federal Aviation Administration spokesman for the central region, Chicago, said Tuesday afternoon that the cause of the crash was unknown.
"The helicopter was descending over some trees and for unknown reasons, crashed," Molinaro said. "There were two on board and the aircraft was destroyed. At this time I have nothing else on it."
Molinaro said when an aircraft accident involves fatalities, the National Transportation Safety Board investigates. NTSB investigators were unavailable for comment.
Molinaro said investigations can be lengthy.
"With an accident with fatalities, it could take up to a year to complete an investigation," he said. "I haven't seen anything earlier than six months."
Molinaro said Lawson and Inlow were traveling in a 1952 Bell 47D helicopter that Lawson purchased a year ago from Pritchett Aircraft in Rolla, Mo.
Travis Pritchett, co-owner of the company, said Lawson was headed toward the Rolla airport when the helicopter crashed. Lawson had planned to leave it there so that he could lease it to a crop dusting company to use to spray cotton fields in the Sikeston, Mo., area.
Gary Martin, investigator with the Bates County Sheriff's Department, said the crash occurred about seven miles north of Ballard, Mo. Martin said he did not know how long it took emergency workers to locate the downed craft. However, other reports indicated that the search took about an hour.
The nearest airports from the crash site are in Bates County, about 20 miles away, and in Clinton, Mo., about 25 miles away, Martin said.
Pritchett, who had known Lawson for about two years, was waiting Sunday afternoon at the Rolla airport with Lawson's wife, Robbie, and Inlow's wife, Nancy, who planned to drive the two men back to Kansas.
"We heard the news about 4:45 that they did go down," Pritchett said. "And a little bit later we learned that they did not survive."
Pritchett said he had no idea what caused the accident.
"I hate to speculate at this time," he said on Monday. "There's a thousand things that could have happened."
Pritchett said he and Lawson had developed a close friendship.
"You couldn't help but love the guy, regardless of whether he flew or not," Pritchett said. "He was just a great guy."
Lawson and his helicopter were the subject of a May 30 feature on the Living page of The Mirror.
An obituary for Lenny Lawson appears on page 2A of this week's edition of The Mirror.