Beekeepers meet for first time in Tonganoxie
Steve Tipton lost his queen and didn't know where to find her.
But after a short search, the queen bee was located.
Tipton and about 50 other beekeepers met Saturday for the annual meeting of the Northeast Kansas Beekeepers Association, held at the Leavenworth County Fairgrounds.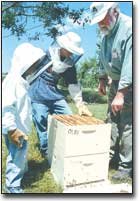 Some of the beekeepers brought their children and grandchildren, who also learned more about bees. As the youths donned hats, veils and gloves and neared an apiary, Chip Taylor, University of Kansas professor of entomology, lifted the lid and smoked the inside. Then, as he scooped up bees and held them in his bare hands, he talked to the children about how to handle and care for bees.
Tyler Marteney, 5, came to the meeting with his grandfather, Richard Marteney, a beekeeper for 18 years.
Tyler wore a beekeepers hat and veil, as well as a white smock complete with long elastic cuffs and leather gloves.
Tyler said he likes to help his grandfather with the bees.
"I smoke them," Tyler said. "I puff it in the front and I keep it burning and the bees go inside their houses."
One of those attending, Merle Schneck, Bonner Springs, said he started beekeeping last year after finding a swarm in his garage attic.
"We had an old-time beekeeper come out and we cut a hole in the ceiling, then we took the cone and put it in an empty frame," Schneck said. "As we collected the bees, we shook them into the box and they stayed."
Steve and Becky Tipton, Meriden, have been beekeepers for 10 years. Each year, their hives will each produce from 75 to 100 pounds of honey, depending on the weather.
"Beekeeping is an agri-business," Becky Tipton said. "And like with all agri-businesses, the weather does make a difference. If there's no rain, there's no flowers and no honey."
Steve Vernon, Tonganoxie, is a second-year beekeeper. He started last year with two hives, added more, and then lost three to the cold winter.
His honey crop produced 200 pounds last year.
"I have four new hives this year and I look to buying a few more hives next year if I can find a place to put them," Vernon said. The best location would be near crops that bloom, he said.
Cecil Sweeney, Olathe, owns a business that caters to beekeepers. Mid Continent Agri Marketing sells beekeeping supplies, as well as candlemaking supplies.
He also is a beekeeper.
"It's just an interest in nature," Sweeney said. "Bees have a fascinating social structure it's interesting how the bees all work together as one unit for the benefit of the hive. One individual bee can't survive on its own."
Except for the queen bees, who may live as long as five years, the lives of bees are short.
Within three weeks, the insects have run the gamut of hive jobs, including, cleaning cells, feeding the larvae, disposing of the dead, transporting food and guarding the hive. At three weeks they start to gather nectar. And at six weeks, they die.
"They work themselves to death," Sweeney said.
In recent years, bee populations have declined, Steve Tipton said, attributing the drop to the varroa mite.
"Because of the varroa mite, our feral bee population is practically nonexistent," he added. "This is serious, because a third of our diet is
dependent on insect pollination."