Goodbyes are never easy
Graduation saps
THS

track team's strength
With the end of a high school sports season, coaches are faced with the inevitable loss of their most experienced athletes to graduation.
While the Tonganoxie High School girls track team escaped graduation virtually unscathed, the boys team lost several senior point-winners from this year's squad.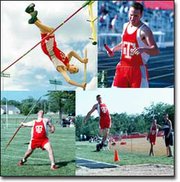 The girls team lost only one senior, Aubrey Mikijanis, and she was out most of the year with a foot injury. All of the team's main point-winners should be back next year, as a strong junior class gains another year of experience, strength and conditioning.
The boys team, however, lost four state qualifiers, seven top field event performers and the cream of the crop in nearly all other areas.
In the field events, the team lost Kent Clubine, Tony Miller and Roger Robinson, its top three shot putters. At least one of those three finished in a podium spot at every meet. Miller qualified the event for state.
The team also lost Aaron Knipp, who finished in the points in the discus several times this season. Miller also earned several top-three medals in the javelin.
Coach Phil Williams said he wasn't sure who would replace those departed throwers. He said it would depend on who was willing to put in the effort.
"We've got several kids with the potential," he said. "It just depends on how much they improve and how hard they work in the off-season."
Jumpers Ryan Hatfield and Joey Holek will also be missed. Holek came very close to breaking the school record this season.
Williams said that as of the end of the season, sophomore Jacob Walker was the top choice to replace him.
In the field events, the team also lost pole vaulter Sheldon Trieb, who qualified the event for state. But the Chieftains already have strong replacements for him in juniors Karl Cleavenger and Dustin Schultz and freshman Travis Andrews.
"Definitely the vault will be one of our strongest events next season," Williams said.
Another of Tonganoxie's typically strong events, the 4x800-meter relay, has some fast shoes to fill.
Jacob Hoffhines and Matt Needham, both members of that state fourth-place team, are gone, and Williams said he had no idea who would replace them.
"Right now we don't have anybody that can break a 2:20, so we'll have to see," Williams said.
The team also lost sprinters Rodney Lobb and Jacob Sledd and long-distance runner Joe Thompson.
Although Cleavenger and Schultz will be the only seniors next year that won letters this year, the future isn't all that bleak.
More than half of the freshman from this year's team earned letters, including state qualifier Joe Calovich. In addition, five of 10 sophomores lettered and three have state experience.
Also, the team has a hole card that most have forgotten about: Alan Davis.
Davis, one of the fastest long-distance runners in the state, missed this season with a pulled quadriceps But he will be back next season.
"We'll have Alan back next year, and he's a real strong two-miler," Williams said.