The Kansas Speedway already is having an economic impact on Tonganoxie.
Last Friday and Saturday, members of Sacred Heart Catholic Church and the Tonganoxie Fire Department auxiliary worked at food and beverage booths at the speedway.
So far, the hours they've put in have paid handsome dividends.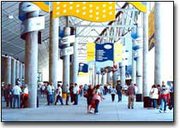 Just on Saturday, the church stand sold about $34,000 worth of food and drink. The church walks away with 13 percent of the revenue.
Kerry Putthoff, a church council member, is managing the stand, with help from his wife, Treasa, and his mother, Connie.
On Saturday, 30 church volunteers worked.
"I'd like to have 10 more people," Kerry Putthoff said about upcoming race weekends in July and September. "I would think we could probably get into the $40,000 to $50,000 range with that. It takes a lot of effort and a lot of commitment. We've got a really great bunch of people. I can't pat the people on the back enough who worked for us."
Putthoff said he's more than pleased with the results from selling sandwiches, hot dogs, nachos, candy, soda and beer. The church is raising funds for a new campus, south of West Haven Baptist Church on the west side of U.S. Highway 24-40.
"This kind of money, you can't make anywhere else," he said. "We couldn't pass it up."
The church's booth is in a prime location, just inside the main entrance to the speedway, which Putthoff said was another plus.
Nearby, members of the Tonganoxie Fire Department and its auxiliary worked in four beer stands. These volunteers were paid $80 each on Friday and Saturday. With about 15 people working each day, the auxiliary made about $2,400 last weekend.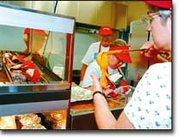 And they earned their pay, according to firefighter Jaime Payne.
"On Saturday, we had lines," he said. "Oh my, it was horrible. We were very busy from probably 10 o'clock to at least 1:30. We stayed busy all day."
In Payne's booth, speedway fans went through 20 kegs of Boulevard beer in two days.
"This will probably be the best fund-raiser we've ever done," he said. "It's well worth it."
Like their counterparts from the Tonganoxie church, Payne said auxiliary members will increase their workforce at upcoming races.
For Charlie Conrad, Tonganoxie fire chief, drawing beer proved to be a much cleaner fund-raiser than the one auxiliary members undertook at the 2000 Tonganoxie Days.
"This is much better than having pie thrown in your face," he said.
The auxiliary is working to raise funds for a thermal imaging camera, which will help Tonganoxie's firefighters detect people inside structures.
At the Sacred Heart booth, several workers were so enthused with their jobs on Friday that they signed up to work race weekends in July and September.
"It's fun," said Barb Bailey. "I like to hear the roar of the engines."
Bailey even surprised herself.
"I was not for this race track at all," she said. "But I'm really enthusiastic."