Speedway roars into action
The inaugural race weekend at the Kansas Speedway proved a success, according to track officials.
"Reviews from the fans, the media and the drivers were all outstanding," Kansas Speedway President Grant Lynch said. "As more fans from around the country learn more about our facility and all the amenities we have, we're sure to become a favorite on the motorsports circuit."
The $225 million track, which is 16 miles east of Tonganoxie, hosted two races on Saturday, the ARCA RE/MAX Series BPU 200 and the NASCAR Winston West Series Kansas 100.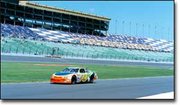 An estimated 45,000 people attended the races, and speedway officials estimate parking lots were cleared and roads were moving quickly about one hour after the conclusion of events.
Tonganoxie Police Chief Ken Carpenter said post-game traffic moved smoothly through town.
"It wasn't a problem this time," he said. "That doesn't mean it won't be at the other races."
Speedway officials said drivers and fans enjoyed the Fan Walk, which provides up-close access to drivers.
"This is, by far, the biggest and most-attended event where ARCA is the featured race," ARCA spokesman Don Radebaugh said. "We had a great time and can't wait to come back here for more, exciting racing."
ARCA RE/MAX Series defending champion Frank Kimmel and winner of Saturday's NASCAR Winston West Series Kansas 100 said he was pleased with the race track and it's smooth surface.
"It's a great facility. I think everybody had a lot of fun out there," he said. "I thought for a brand new race track, this is probably the best experience I've ever had."
Jason Jarrett, winner of the ARCA RE/MAX Series BPU 200, was equally impressed.
"It's definitely a first-class facility. It seems like every new race track that comes along, they add something that gets the fans involved a little bit more. It's better for the drivers, it's better for coming in and out of the pit, it's a nice, smooth place. This place is definitely on top of the list."
Tickets are sold out for the NASCAR Craftsman Truck Series on July 7, the Indy Racing Northern Light Series and Dayton Indy Lights Championship on July 8, the NASCAR Busch Series on Sept. 29 and the NASCAR Winston Cup Series on Sept. 30.