Thunderstorms saturate area
Storm clouds pummeled an icy rage against the earth.
And when Friday night's torrent of rain, hail, wind and lightning subsided, it was time to survey the damage.
"We got hammered," said Bill Murr, who farms and ranches about eight miles northwest of Tonganoxie.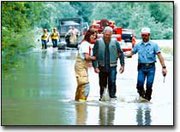 "It took out about 300 acres of wheat for us, 300 acres of corn and about that many acres of soybeans."
The storm took a toll on Murr's brome grass and pasture land as well, gnashing hay and washing fields.
"We got three and a half inches of rain Friday night in about 15 minutes, along with the hail," Murr said. "I've never seen anything like it."
The hail, he said covered the ground at least an inch deep.
"It was really white for a while," Murr said. "At eight o'clock the following morning, we still had six-inch high windrows of hail in the grader ditches."
Before the storm, the wheat crop had been in good shape, Murr said.
"It was really nice looking wheat," he said. "It was waist high and probably would have been fifty-five to sixty-bushel wheat."
Murr plans to plant corn or soybeans in the former wheat field, as well as replant the original corn and soybean fields, assuming the ground soon dries.
But there will be some losses even though he has crop insurance.
"With crop insurance it won't be a complete bailout for us, but it will help replant," Murr said.
Keeping track
Tonganoxie insurance agent Robin Jones, of Farm Bureau Insurance, was besieged with storm-related calls Monday morning.
"We've gotten about 50 property claims so far on hail damage and they're still coming," Jones said. "It seemed like it was worse in Jefferson County, but we've got a lot of claims here in Tonganoxie as well."
Many of the claims were for roof damage, Jones said.
Breakdown
At B&J Amoco, it was apparently lightning, rather than hail, that caused havoc.
Terry Chop, manager, said the storm caused a failure of the business's gasoline pumping system.
"The part that communicates the information from the pumps to the register was burned out," Chop said. "They had to replace that and they couldn't get the part until Monday morning."
Adding insult to injury was the fact that because last weekend marked the opening of the Kansas Speedway, there were more than the usual number of vehicles traveling through town, and stopping to buy gas.
"We had to turn away so many people," Chop said. "And I heard that everybody else at the other stations were busy."
On with the show
A year ago, the annual Relay for Life was postponed because it was scheduled for May 12 the day after the May 11 tornado.
But this year, despite inclement weather, the relay went on, almost as planned.
Jerri Cooper, organizer of the event, said attendance and fund-raising was "way down," but added, "We had a reason."
She was thankful, she said, that no one was caught in the storm.
"We all scattered," Cooper said. "We went home and then went back down to the junior high track when the storm was over. Everybody was safe, that was the main thing."
Because of the storm, the guest speaker, Dr. Matt Stein, Lawrence, was unable to talk at the gathering. And a scheduled auction was postponed.
However, Cooper said the walkers arrived and teams set up their campsites. About 100 people participated.
"We had people out there all night," she said.
By morning, temperatures had dipped to 49 degrees, leaving the most stalwart still going.
The weather took a toll on proceeds, Cooper said. Last year the event brought in $20,000, but she thought the numbers would be much lower for this year.
Knee deep
The recent storms have kept Chuck Magaha and his storm-spotters busy.
Magaha, director of the county's emergency management office, said Friday night's decision to sound sirens in Tonganoxie was made after the National Weather Service spotted cloud rotation north of town. The rain was so intense that storm-spotters could not see the clouds to track the rotation.
"There was never an actual tornado in Leavenworth County," he said.
Winds were estimated at 70 mph, and were accompanied by about 1.5 inches of rain and marble-sized hail. South of Tonganoxie, for about a half-mile along Leavenworth County Road 1, hail piled up about 12 inches.
"I've never seen it that deep before," Magaha said.
The area was hit with heavy rains again on Sunday night. Magaha said he measured about 2.75 inches in his rain gauge about 1.5 miles south of Basehor.
On Friday night, Tonganoxie firefighters and KPL workers responded to arcing power lines at 108 W. Third and in the alley behind the United Methodist Church.