Linwood man held in son-in-law's death
38-year-old Eudora man shot in head during argument
Leavenworth County officials are investigating the shooting death of a 38-year-old Eudora man as a homicide.
Michael Roach was shot in the head shortly before 6 p.m. Monday by his 61-year-old father-in-law, Charles Leach, according to Major Dave Zoellner, Leavenworth County undersheriff.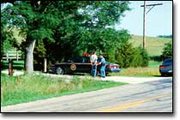 Leach, a rural Linwood resident, was being held Tuesday afternoon in the Leavenworth County Jail on a first-degree murder charge, Zoellner said.
The shooting occurred at Leach's home, 12212 220th St., which is about a half-mile south of Kansas Highway 32 on Leavenworth County Road 1.
"It appears that the shooting occurred out in the field area," Zoellner said.
Roach was flown by LifeStar helicopter to the University of Kansas Medical Center, Kansas City, Kan., where he died about midnight, Zoellner said. An autopsy was scheduled for Tuesday.
"It's being investigated as a possible homicide," he said.
Apparently, Roach went to the Leach residence to pick up some of his belongings, Zoellner said. An argument ensued, culminating when Roach was shot. One of two men who were moving dirt on the property called authorities.
Two handguns a .22-caliber revolver and a 9 mm semiautomatic were discovered at the scene, Zoellner said.
He said he wasn't certain which gun was used in the shooting.