Natives finish ahead of pack at festival
Matt Brisch is a dedicated runner.
After winning Saturday's 10K race at the Library Run, Brisch, who lives in Kansas City, Kan., said he always tries to make the Tonganoxie Days race.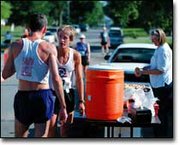 "I think if I lived in the South Pole, I'd come up here to do this," he said.
Brisch, 33, ran with his long-time running friend, Steve Riley, 47, Lawrence. Riley came in a close second to Brisch.
Connie Putthoff, organizer of the event, greeted the men as if they were old friends.
"Steve has probably run in every one of our races," Putthoff said.
Fifty-nine runners participated in the event, Putthoff said.
Another runner, Richard Moore, placed fourth in the 5K run. This was his second year of running. Moore said he enjoys the activity, as well as good weather.
"It is fun," he said. "Especially on a day like this, warm and sunny, it doesn't get any better than this."
The following runners were designated trophy winners:
5K men: Kyle Norris, first; Henry Devereaux, second; and Nathan Bailey, third.
5K women: Renee Stains, first; Kelly Pittman, second; and Rachel Bonza, third.
10K men: Matt Brisch, first; Steve Riley, second; and Brian Daldorph, third.
10K women: Julie Angello, first; Tammy Spray, second; and Christine Carriker, third.