THS

junior working to start golf program
Many say that golf's a lifetime sport.
Tonganoxie junior John Bretthauer would like to see it be a lifetime sport offered at Tonganoxie High School.
At Monday night's school board meeting, Bretthauer expressed his desire to bring golf to the district.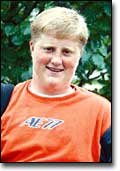 John Lee, high school athletic director, provided the board with some other information such as financially what it would take.
Bretthauer originally approached Superintendent Richard Erickson at the league track meet last month. Erickson told Bretthauer that he should get a petition signed and make a presentation to the school board at the June 11 meeting.
Just from the incoming junior class, about 14 have signed the petition. Bretthauer also said that nine teachers he's talked to are supportive.
"A lot of the kids wonder why we don't have one here already since every other school district does," Bretthauer said earlier. "I've just stepped up a level to seriously bring golf here. The last three years people have said we need a golf team."
Bretthauer anticipates that about 25 students would be interested in playing on a school golf team.
"My friends are glad that I'm trying to get this put together," he said. "I showed John Lee my petition and he said he would be the last to sign it for me. Mr. Smith, Mr. Neas and Mr. Bogart said they like the idea."
THS Principal Mike Bogart said that he was supportive of the program if it worked out.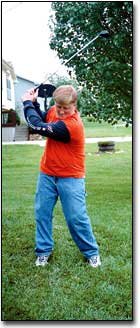 "We need to make sure these kids really want to do it," Lee said. "There's not a whole lot of physical exertion and not a lot of costs if they have clubs or if their dad has clubs."
Erickson said the school board would address the golf issue as an action item at the next meeting, which will be July 9.
Girls golf is played in the fall and boys golf is played in the spring. If the school board approves the program, an option would be to start with a co-ed team until more girls show interest.
In recent weeks, Bretthauer has been calling area golf courses to find out what it might cost to practice. The estimate at Sunflower was about $175. They would probably have to practice there about once a week. Each player would provide their own equipment, such as golf clubs, clothes, etc.
The cost of adding the program would be about $4,000 but could cost up to $7,000, Erickson said. The cost of transportation would also factor in.
"If we're going to do it, I want to be competitive," Lee said. "I want to win, I want to make them proud that we're the Tonganoxie golf team. I worry about watering down the other programs, but I don't think this is the case."
Board members seemed supportive of a golf program but no decisions will be made until next month.
"I think it's a great idea," said board member Bob Gepner, "I mean, you can play golf your whole life."
Erickson agreed.
"I think that golf is a great lifetime activity and we're the only school in the Kaw Valley League right now without it," Erickson said. "I certainly support it and believe it would help our sports program and would engage more students in an activity program."