From a dead stop, Pete Tork spiked his 1965 Cobra replica up to 126 mph in 11.27 seconds.
Even a 30 mph headwind couldn't keep him from winning last week's Topeka Heartland quarter-mile drag race.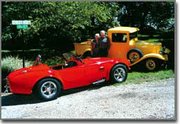 And when Tork and his wife, Irene, returned to their rural Tonganoxie home that evening, they had in tow not one, but three trophies. Tork, 66, had also nabbed first place in his class in the autocross and road races.
Tork, who chuckles when he admits he was the oldest racer there, said when he was a teen-ager he never dreamed that he'd be winning races in his 60s.
"In fact, I never thought I'd live to make it to the age of 20," Tork said. "We drag-raced all the time."
Keeping track with cars
Events in the Torks' marriage are bookmarked by the vehicles they drove.
The couple met in Leavenworth, where they both lived.
Irene was 16 when they started dating. Pete was 18.
The year was 1953. The car was a 1939 Chevy coupe.
Already, Tork had started tinkering with automobiles.
"There was a teacher in high school that let me channel my '39 Chevy coupe," Pete said. "So I was the only one floating around town in a channeled car."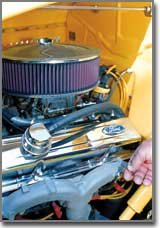 In other words, Pete was a guy to be noticed.
A channeled car, he said, is one on which the body sits lower on the outside of the frame.
Next on the list was a 1940 Ford deluxe coupe with a hot-rod engine that Pete built when he was a senior in high school.
For this car, he wanted nothing but the best inside and out. Irene's father, who was an upholsterer, added a maroon and cream tuck and roll interior.
And when it was completed, Irene got to try out the car for herself.
"I taught her how to drive in that car," Pete said.
Traveling in the Chevy
Two years later, they married. By then Pete was in the Air Force, stationed in California.
"When we got married, we got a '55 Chevy and we gathered up our wedding presents and loaded up the car to go cross country," Irene said.
When he left the Air Force, the couple began working on cars together a hobby they continue today.
"We resurrected a 1929 Model A roadster out of a junkyard," Pete said.
They turned it into a street rod. Next on the list was a new car.
"It was a 1958 Corvette I couldn't live without," Pete said.
Off and on, Pete would decide to stop working on cars, and to stop racing cars.
"I'd say I'd better settle down, I'm married," he said.
But Irene countered:
"You told me that the year we got married and you're still racing."
But Irene said she's never minded the time they devoted to his hobby.
"I'd rather he had been doing that than spending every Friday and Saturday night in a bar," she said.
Again the important events of their marriage are entwined with the cars they owned.
"We adopted a couple kids right after we got the Studebaker," Pete said.
In 1962, the couple adopted a daughter, Alana, and in 1964, they adopted a son, Marty. In 1965, they bought a new Corvette. And like their children, the Corvette is still a part of their family.
Common interests
Through his working years, Pete was employed as an aircraft mechanic for TWA. He retired in 1995.
Irene went to college at 43 and graduated at 45, becoming a registered nurse. She worked at St. Luke's Medical Center, spending eight years in intensive care and nine years in the operating room. In 1996 she retired.
The last few years have been especially good, they say.
"Retirement is the best thing I ever did," Pete said.
Having common interests has helped, Irene said.
"If you don't have the common interests like we've always had working together and doing things together then retirement might not be better."
Irene, who now has about 45 years experience working on cars with her husband, has recently taken up another hobby one far removed from the mechanics of a garage.
In 1998, a friend introduced her to basket weaving. Now, each room in their house is decorated with baskets Irene has made. She travels across the country participating in basketweaving classes.
And closer to home, she is an active member of the Kansas Basket Weavers Guild in Lawrence. When she's not making baskets, she's quilting stitching full-size quilts as well as miniatures.
Up, up and away
And together, the two like to take to the skies.
Both have pilots licenses and both have worked together on rebuilding airplanes. Their rural home, set on five acres, is adjacent to an aircraft runway that leads to a barn that doubles as a hangar for their 170 B Cessna.
On clear days, the red and white Cessna might be seen circling overhead as Pete and Irene, and sometimes even their 115-pound Weimaraner dogs, Casper and Shadow, view the countryside from above.
Their jaunts take them far from home, too. As members of a Cessna 170 club, Pete and Irene have flown to fly-ins across the country.
The Torks also refurbished and later sold a 1946 BC-12D Taylorcraft plane. This lightweight plane has wings and fuselage that are made of fabric.
Not for any price
Today, a spacious garage at one end of their earth contact home holds the vehicles that are most dear to them. This includes the 1965 Corvette that Pete bought new in 1965, the 1965 Shelby Cobra replica the Torks built from a kit, a 1934 Ford three-window coupe that uses 17-inch-wide street tires, and a 1933 Ford pickup that the Torks brought home in pieces after buying it in the Basehor area. Except for the Corvette, which is in original condition, the Torks have rebuilt each of the vehicles, inside and out. The pickup truck is complete with electric windows and air conditioning. For now, the Torks plan to keep the vehicles, although Pete said sometimes it's tempting to part with them.
He recalled an offer he had on a red 1962 Corvette he had refurbished.
The Torks had driven it to the A&W drive-in in Leavenworth.
"A guy from the fort up there, from Kuwait, he came up and said do you want to sell the car," Pete said. "I said no and he said 'Not for any price?' and I said no."
Later Tork did sell the car to someone else. And today he chuckles when he recalls turning down the "any price offer."
"That's where two idiots met," Tork said. "Him for offering and me for turning him down."