McLouth man released from hospital
Benefit dinner, auction to help with medical expenses
A benefit dinner and auction will be held to help a McLouth man who was burned in a June 4 fire at his home.
The event, scheduled for 11 a.m. to 4 p.m. July 8, will be held at the Harvest House Restaurant in McLouth.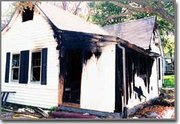 George Warren, auctioneer, will auction donated items, and Butch and Karen Bartlett and restaurant staff will prepare the meal.
Andrew Gibson, 36, whose arms were burned in the fire, underwent skin graft surgery at the University of Kansas Medical Center in Kansas City, Kan.
Gibson was released from the medical center last Thursday.
During an interview on Monday, he recalled the accident.
Gibson said he had just come home from work where he had used gasoline as a cleaning solvent.
His house had been cool the night before, so Gibson had used a natural-gas space heater. When he came home, he reached to turn off the heater, not thinking about the gasoline on his shirt.
"I went over to turn the pilot light off and flames jumped out," Gibson said.
Within moments, his house was ablaze. Gibson and his dog escaped before firefighters arrived.
Carl Chalfant, McLouth city superintendent and fire chief, said firefighting units from McLouth, Oskaloosa, Winchester and Sarcoxie Township responded.
Firefighters took extra precaution because of nearby houses, as well as the proximity of a Casey's convenience store and gasoline station, located behind the house.
"It was a concern," Chalfant said. "We monitored the whole surrounding area. Our concern was to do gas tests on sewers and piping in the vicinity to make sure the fire wouldn't migrate to other houses or Casey's."
By 9 p.m., about an hour and a half after the fire erupted, firefighters had the blaze under control.
Chalfant said it might have been stopped earlier, except firefighters were unable to enter the house without getting shocked.
"We were hampered because we couldn't get the electricity turned off at the house," Chalfant said. "We had several firemen who were shocked when they tried to enter the house."
Chalfant explained that KP&L workers, who turned the electricity off, had to drive to McLouth from Atchison, about 36 miles, to turn off the power.
"It was over an hour before they got here," Chalfant said.
Because Gibson has no health insurance, and because he lost everything in his house, Karen Bartlett, owner of Harvest House, offered to help.
Gibson, an employee of Robbins Hardwood Floor Specialists, also has worked as an electrician, and he has helped at Harvest House, filling in when needed.
He said his doctors have told him he won't be able to return to work for six months.
"But I'm thinking it won't be that long," Gibson said. "I'm pretty strong and I keep in shape, so I'm hoping I can get back on the horse before long."
In the meantime, he's living with his parents, Joan and Marlin VanDruff. The house, which he was buying, is insured, and some of the contents were insured, he said. But the medical bills are piling up.
"I got the bill from the LifeFlight helicopter and it was $5,000 just to get flown there," Gibson said. "That's supposed to be due in 30 days, but I'm going to have to make payments on it."
As to the people who are arranging the benefit for him, Gibson said, "They are the nicest people in the world." But he added that it's always been difficult for him to accept help.
"I'm not looking for a handout," Gibson said. "I want to get back to work as soon as I can."