Tonganoxie softball team bound for national tourney
The Braves post a strong season, playing area teams
The Tonganoxie Braves continue to have a strong season in their first year competing in the 11- and 12-year-old girls softball division.
The team is 30-8 after winning the Field of Dreams Summer Jam Tourn-ament last weekend in Basehor.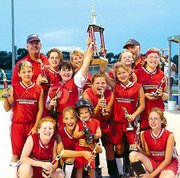 Tonganoxie de-feated the Lawrence Phoenix in the title game 7-5.
Last year the Braves, playing in the 10-and-under division, finished eighth at a national tournament played in Basehor.
The team competes in a league in Johnson County.
Besides the regular league games, the girls play in tournaments on the weekends that qualify them for national play.
The team has won three of four tournaments and took second in the fourth. They play a tournament about every other weekend.
"They're super excited," said coach Pat Albert.
"They are really playing well together. They're a good group of girls that genuinely love playing softball and really enjoy being together. I'm looking forward to seeing how they do."
The girls on the team are Ashlee Lohman, Sarah Hartshorn, Amie Riddle, Amanda Albert, Kalie Hileman, Sami Rush, Tracie Hileman, Melissa Pratt, Hannah Herrstrom, Lacey Sturgis and Ali Pistora.
Along with playing in local tournaments and the regular season, the Braves are contemplating which of two national tournaments they should play in.
One tournament is the United States Sports Specialty Association tournament July 23-29 in Charlotte, N.C. The other is the American Fastball Association's tournament July 30 through Aug. 5 in Oklahoma City.
Albert said the team must raise about $2,000 to go to the tournament.
"We would appreciate anyone that wants to help support our team," Albert said.
The team will have a car wash from 9 a.m. to noon on July 7 at Albert's East Side Auto Parts, 1204 Highway 24-40. Besides that, the girls have sold candy bars and candles to raise money.
When the team isn't raising money, it's winning games.
The Braves also have a 6-3 record in their league of eight teams along with their 30-8 overall record.
"This is a very talented ball team," Albert said. "They all do extremely well coming together. They play like a team, not a bunch of individuals."
Between now and the end of July, the girls will prepare for the national tournament.
"They just need to continue to build on their own successes they have," Albert said. "And, each girl needs to be more confident in their position."