County's new water rescue squad gets a real workout
Up until last week, the county's water rescue team was still a little wet behind the ears.
But as rain fell and water tumbled out of the banks of creeks and streams in Leavenworth County last Wednesday, the team gained additional experience.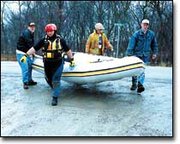 "We have a lot of gear we need to purchase." Dave Couvelha, Leavenworth County Water Rescue and Technical Services Team
Last week, the 1-year-old Leavenworth County Water Rescue and Technical Services Team rescued five people from floodwaters throughout the county.
The rescue team had evacuated people on two occasions in the last few months, but last Wednesday's flooding brought more calls in much less time.
The team was first called out early Wednesday morning to a car stranded on Kansas Highway 192 east of Easton. The car was stalled because of high water from overflowing Stranger Creek. The team was unable to get to the vehicle, but it was later reported that the driver had gotten out of the car and walked home.
Later that morning, near Easton, fire chief Jimmy Herken and his Easton Township Fire Department members evacuated people in low-lying areas near Easton. One woman who was 98 had refused evacuation the night before, and was stranded, as were her daughter and grandson. The three had to retreat to the house's second story as floodwater on the ground floorwas at three to four feet, according to Dave Couvelha, the water rescue team's training officer. They were taken to safety.
The final rescue occurred about 8 p.m. at 190th Street and Evans Road in southern Leavenworth County when two men were stranded in floodwater. The two were rescued in the dark after the team used a powerboat owned by Butch Krouse, a new member of the Fairmount Township Fire Department.
The rescue squad has ordered an outboard motor for $1,800 after raising funds for the volunteer-based group, but delivery isn't expected for another 30 to 60 days.
The 14-member volunteer team in Leavenworth County has trained for a year and continues to raise funds for more equipment.
"We have a lot of gear we need to purchase," Couvelha said.
He said the team plans to generate finances through working concession stands at the Kansas Speedway, along with other fund-raising activities, as well as applying for grants. As the team's resources continue to grow, a long-term goal includes training divers for underwater recovery.
"We still have a long way to go," Couvelha said.