Stranger roars through county
Creek floods Easton, damages homes and farms after drenching rains
In Anna Mary Landauer's 82 years in Southern Leavenworth County, she'd never before seen Stranger Creek as high as it was last week.
After about 10 inches of rain fell in the northern portion of the county flooding the city of Easton water rushed down the usually serene creek toward the Tonganoxie area.
Because about five inches of rain also had fallen in the Tonganoxie area during the day on Tuesday and Tuesday night, the creek was rushing toward soggy, soggy land.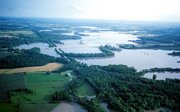 In its wake, the creek left flooded homes and farmland. It also forced the closing of several county roads and the Kansas Turnpike. In Linwood, the supports holding an old bridge over the creek collapsed, as swift water ate away the west bank.
"It wasn't this high when I was about 16 or 18 years old when my mom and I floated wheat bundles out of the creek down there," Landauer said Wednesday afternoon, watching the creek wash across Leavenworth County Road 5.
Her brother, Albert Doege, said it was the third time he'd seen water rush over the blacktop road.
"But it's possibly two feet higher than it's ever been before ever," said Doege, who lives and farms along the county road.
North of Doege's land, Samantha and Bryan Hendrix had called just about everyone they could think of to help them move from their home.
"I've never seen water out my kitchen window." Samantha Hendrix
"Two hours was all we had," Samantha Hendrix said, as she watched the water rising toward her home. "I do baby-sitting, and I had to call the parents to get their kids. I told them, 'I have to move.'"
Pickups and cars were packed to the brim with the Hendrixes' property, and four dogs and two cats.
Hendrix said she knew something was amiss when she looked outside earlier in the day.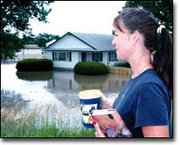 "I've never seen water out my kitchen window," she said.
About 2 p.m., the floodwaters had cleared a dam that previously had protected her rental home.
"I've got oceanfront property," she said. "Everybody's safe. Nobody got hurt. Everything is replaceable."
The couple successfully had pulled the washer, dryer, freezer and televisions, along with clothing and other personal items, from the home before floodwater filled it. At its height, water stood several feet inside the home.
On Sunday, the couple returned to the home, where they pumped pungent water from the basement.
"We got a heck of a lot of water pumped out of the basement," Bryan Hendrix said. "The basement was plum full."
And Samantha Hendrix, who's maintained a positive view on the flooding, said, "We still get to move back into our house. We were afraid we might not be able to. It made us really happy when we found out we could come back."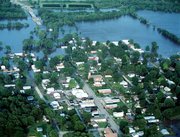 The couple's landlord planned to visit from his home in Lebo sometime this week, to see what needed to be repaired.
According to Debbie Winetrub, assistant coordinator for Leavenworth County Emergency Management, flood stage for Stranger Creek at U.S. Highway 24-40 is 23 feet.
"It was way out of flood stage," she said.
At 6 p.m. Wednesday, the creek was flowing at 29 feet, while four hours later, it was rolling at 29.79 feet.
"It was predicted to go to 30.2, and I'm sure it went at least that high," Winetrub said. "It was up to the roadway, but it wasn't ever actually over the roadway."
Last Wednesday's crest was the highest recorded since measurements began in 1961, according to Chuck Magaha, emergency management coordinator for the county.
At Easton, where the creek's flood stage is 17 feet, Stranger Creek began rising late Tuesday, Magaha said. Here's how it went: 4:45 p.m. at 2.5 feet; 5:30 p.m. at 7.05 feet; 6 p.m. at 8.05 feet; 9:15 p.m. at 15.38 feet; 12:09 a.m. Wednesday: 19.7 feet; 4:30 a.m. at 22 feet; 8:45 a.m. at 24.75 feet; 10:13 a.m. at 25.9 feet; noon at 24.7 feet; 8:30 a.m. Thursday at 20.25 feet; and 10:52 a.m. at 7 feet.
The county is seeking federal assistance for Easton residents, Magaha said. Damage estimates on county bridges, roads and culverts was running about $750,000 on Tuesday.
"We'll push pretty close to $1 million worth of damages, I'm sure," he said.
The west end of a bridge over Stranger in Linwood at Golden Road collapsed, after floodwaters washed away the bank.
"We feel we need to get it out of the creek in case we have any more flooding," said David Mahoney, county public works director.
It's not clear whether that bridge will be replaced, he said.
Another bridge west of 190th Street and Metro Avenue also is closed because 25 feet of the wood deck was washed away.
Floodwaters closed the Kansas Turnpike from 7:30 p.m. Wednesday to about 6 a.m. Thursday, as about two feet of water from Stranger Creek flowed over the highway, according to Tom Wurdeman, the turnpike's chief engineer. Traffic was diverted onto U.S. Highway 24-40.
Rick Abel, executive director of Leavenworth County Farm Service Agency, said he and several other agriculture officials planned to tour cropland in the county today.
"I've heard a lot of stories, read a lot of articles and talked with a lot of farmers, and it doesn't sound good in those areas," he said.