Delawares plan discussion with Basehor council
Chief Dee Ketchum, whose Delaware Indian Tribe is interested in constructing a casino, is ready to return to Leavenworth County.
Last week, representatives of the tribe visited Tonganoxie and Basehor, looking at available land and talking to representatives of both cities.
"We're going to go back there this week and visit some more," Ketchum said Monday.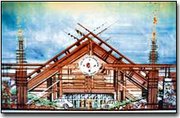 Basehor mayor John Pfannenstiel said he plans for representatives of the Delaware tribe to meet with two city council members at a time on Wednesday and Thursday.
Then at 7 p.m. Thursday, Ketchum will make a public presentation at the school board offices, 155th and Parallel. Public comment will be allowed, Pfannenstiel said.
"While we'll take public comment, we won't take very much comment on the moral question of gambling," the mayor said. "It will be more on the technical process. We will later take questions on the moral question, which is something the city council will discuss. It's not an argument that you can win. It is something that the city council members need to take into consideration.
I'm sure we will have people who are for or against gambling."
It's possible the city council could consider at its March 19 meeting whether to adopt a resolution of support for a casino in the area.
Last week, tribe representatives looked at three general locations in the Basehor area, Pfannenstiel said.
"We pointed them in several directions," Pfannenstiel said. "The southeast corner of the city and the southwest area, both along 24-40, and a site to the northeast at 24-40 and K-7."
The sizes of the tracts ranged from 80 acres to larger than 100 acres, Pfannenstiel said. Pfannenstiel said he preferred the locations on the southeast and northeast.
"From a traffic perspective, I would suppose those areas would have less of an impact on Basehor," Pfannenstiel said.
Basehor is three miles from Interstate 70, three miles from Interstate 435 and one mile from Kansas Highway 7.
Still open-minded to land closer to Tonganoxie, Ketchum said the tribe wants to put the casino outside of a city, rather than in one.
The chief said that after last week's meeting with the Tonganoxie city council, he turned down an offer to buy land close to Tonganoxie.
"An individual came up to me and asked me after the meeting if we would consider a property in close to town," Ketchum said. "And I said absolutely not."
However, he did say that acreage about two miles east of Tonganoxie on U.S. Highway 24-40 looked appealing.
"That was a very attractive piece of property, and I could see the possibility of doing something in that area," Ketchum said. "By setting it way back off the road, having a nice drive up there and landscaping it, it would seem to blend in with the area quite nicely."
Ketchum said he believed that a casino in that area would not have much impact on Tonganoxie's traffic.
"We're thinking it would be far enough away from the downtown that they wouldn't get a rash of a lot of traffic," Ketchum said.
Also, he noted, the four-lane 24-40 would allow easy access to and from the casino.
Ketchum disputed a rumor that he's looking at locations in the Edwardsville area. He explained that Edwardsville is in Wyandotte County, land that he said his tribe ceded to the Wyandot tribe in the 1800s.
Whichever land the tribe decides on, Ketchum said, good relations with neighboring towns and townships are important.
"Whether we go to Tonganoxie, if we get the vote of confidence there, or if we go to Basehor or someplace else," Ketchum said, "We want to be a good neighbor to whomever."
For instance, Ketchum said he met representatives of Stranger Township Fire Department.
"I'm interested in the township and their need to improve the fire department," Ketchum said. "They need to have the latest in equipment, as well as someone who would at least be a full-time employee on call. All of those things I think we would be of some real help and we certainly would be willing to do that."
Ketchum said he realized that some people might be against the establishment of a gambling casino.
"Obviously the negative aspect of it is the casino part of it," Ketchum said. "One thing about it with the Indian gaming situation is that you have to be 21 and older to even come out there to that facility."
Pfannenstiel said he had not yet heard much in regard to opinions about a casino from Basehor residents.
He said he's open-minded.
"Before we met (with representatives of the Delaware tribe), I had no opinion one way or the other as to whether this would be something we would be interested in or not," Pfannenstiel said. "But after meeting with them, I came to the conclusion that it would not be a bad thing."
However, Pfannenstiel said he's listening to others' opinions.
"I think we'd have a reaction that's both for and against," Pfannenstiel said. "I'm sure we have a number of citizens who go to the riverboat casinos. I'm not a gambler and have never even bought a lottery ticket. I would view the casino as entertainment but it's not entertainment that I'm interested in."
Pfannenstiel said he's been in touch with Tonganoxie Mayor John Franiuk about passing a resolution of support if tribal members were to decide to establish a casino near Tonganoxie or Basehor.
"Even if they purchase land and call it part of the reservation, they'll still have the challenge of getting it approved by the governor and the Legislature," Pfannenstiel said. "It would certainly be helpful to have local support."