Missing man, car found in creek
Sheriff's officers: John Brezgiel died in accident
Nearly six months after he was reported missing, John Brezgiel and the car he was driving were found in a creek along Jarbalo Road.
On Tuesday morning, county workers discovered Brezgiel's car partially submerged in a creek, a short distance west of the intersection of Leavenworth County Roads 29 and 10. The site is about 11 miles north of Tonganoxie.
The car was pulled from the creek about 12:30 p.m., and soon after, Brezgiel's body was recovered about 200 feet downstream.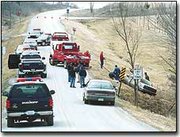 "We just walked along the creek and found him," said Leavenworth County sheriff's detective Ron Ewert.
Apparently, Brezgiel had been driving on Sept. 20 from Leavenworth Plaza to his home near Jarbalo when his he was involved in a one-car traffic accident, according to Sgt. John Schermbeck.
His car went off the right side of County Road 10 also known as Jarbalo Road and into a small creek.
Sheriff's officers said Brezgiel's silver-blue 1994 Oldsmobile Cutlass Sierra was under a bridge that spans the county road when county workers discovered it Tuesday morning.
After Brezgiel's disappearance, sheriff's officers and family members scoured the route between Leavenworth and his home, driving roads and walking ditches.
"We've been over this so many times," said Ewert, who had worked the case since Brezgiel was reported missing.

He said the car couldn't be seen, unless someone leaned over a railing over the creek.
Schermbeck said, "It's amazing to us. We've flown the area. When we flew the area, there were leaves on the trees. It's unfortunate we didn't find the car until now.
"This is his path. This is where the car should have been found."
Brezgiel disappeared after a trip to Leavenworth to meet friends. He last was seen about 10:30 a.m. Sept. 20 at Leavenworth Plaza.
His wife, Scotty, reported him missing after she came home about 6 p.m.
Because of the effects of Parkinson's disease, his mental and physical health had been failing, his wife had said.