The Barking Gourmet: a new breed of dog treat
Kim Downing's reason for wanting to establish a doggie bakery was simple.
"I wanted a job where I could take my dogs to work," she said.
And so Downing, 23, a recent graduate of the University of Kansas and a rural Tonganoxie resident, cooked up her own business, "The Barking Gourmet," in Lawrence. She plans to open in May.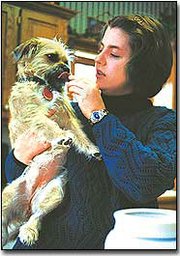 With her college background in journalism, broadcasting and advertising, Downing feels well-prepared to meet the public.
And their dogs.
A long-time fan of doggie bakeries, Downing's introduction to the business came at Three Dog Bakery, a Kansas City, Mo. franchise that started in 1989 in Weston, Mo.
"It was a little hole in the wall in Weston," Downing said. "Then they moved to the Plaza. We used to go down to the Plaza and order from them."
Since then Three Dog Bakery has established franchise businesses across the country.
Rather than join a company such as Three Dog, Downing is determined to start her own business from scratch. And of course, sniffing out recipes is part of the process.
Only the best will do.
But to find "the best" it takes a taste test by the experts.
As if on cue, Maggie, a small terrier who is a bristling, wiggling mass of energy, stands on hind legs and places her front paws on Downing's lap.
Giving the dog an affectionate pat, Downing said she adopted Maggie last fall, wanting a playmate for her German shepherd, Spottie.
As an aside, she mentions that she located Maggie on an Internet pet adoption site, and then drove to Ottawa, Kan., to meet her new pet face-to-face.
Not only are Maggie and Spottie welcome companions and accoutrements to the future doggie bakery but they also serve as company's official taste testers.
Downing admits she's tried dozens of recipes for her dog treats. Some recipes were created for pets and others were "people recipes" as she calls them, recipes that Downing has since adapted for her dogs.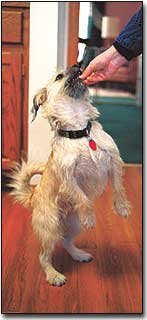 A common denominator is that the recipes are low-fat and made with human-grade ingredients, including wheat flour, carrots and spinach. The treats don't contain salt or sugar, and vegetable oil is used in place of butter.
She's got the taste tests down to as scientific manner as possible, considering so far this has all been done in the kitchen of the rural Tonganoxie home where Downing lives with her parents, Ken and Patty Downing.
"We do a taste test," Downing said. "I put four biscuits on the table and I watch which one the dogs go for first."
Like humans, dogs' taste buds may be fickle.
"My German shepherd, maybe one day he'll like the ones that have honey and cinnamon in them and the next day he would like the barbecue ribs treats best," Downing said.
But the thing about dogs is, no matter what the flavor, all the treats are gobbled.
"He eats all four no matter what," Downing said. "I just watch for which one he goes for first."
Lucky pets belonging to Downing's friends also participate in the testing, as Downing mails them various flavors of treats.
Always, she looks for dog-taste appeal, as well as keeps in mind human preference, said Downing's mother, Patty, who will play a part in starting the business.
"We want treats that don't break easily and don't crumble so they won't make a mess on your clothes," Patty Downing said.
While perfecting recipes is a challenging task, finding real estate in Lawrence for a business front has proved to be far more challenging.
For about nine months, the Downings have searched for a site.
"The problem with sites in Lawrence is that the downtown area is where you want to be and if a place comes up, it's taken immediately," Patty Downing said.
Kim agreed, saying a Realtor had been assisting.
"We looked at quite a few sites," Kim said. "Either we called a day late and the site was already gone, or there was a problem with it."
But recently, Downing found a downtown landlord whose site is close to city parks, an important consideration in the dog business. The owner has agreed to hold the building while Downing gets her financing in order.
She's already bought restaurant-style ovens for baking and is looking for the rest of her equipment. Meanwhile, she's busy planning her new schedule, which means being open on weekends when dogs and their masters take to the streets.
Downing also plans to stock dog supplements that are naturally based, high-quality dog food, specialty toys, soaps, homemade hair ribbons and even "mood collars," which like mood rings are said to describe pets' moods.
The baked goods will include hard biscuits and muffins, as well as cakes and more. And all, she says, will be nothing but the best of treats for her own dogs, as well as others.
"I would prefer to feed them foods that are naturally based and low in fat, and things that are of high quality," Downing said. "They're my family, they're my best friends, so I'm going to feed them things that are of the best quality."