Girls track team looks to fill shoes
Graduation last year takes a toll on Chieftains' potential this year
A few sunshine-filled days last week allowed Tonganoxie High School's track team to practice outside and girls Coach Bill Shaw to get a good look at his team.
He said he liked what he saw.
"As usual, the girls came in with a real good work ethic," Shaw said. "They're very dedicated to their events and they just work hard."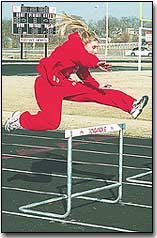 And the team will have to work hard. It's got some big shoes to fill with the loss of two state qualifiers to graduation.
Shaw said that last year's seniors Arrika Reeder, Bryce Downey and Wendy Altman would be hard to replace.
Last year, Reeder struck league gold in both the 100 and the 200. She was also part of the 4x100-relay team that took third.
Downey missed league with an ankle injury, but she was back for the next week's regional at Tonganoxie. And she showed up big time, capturing third-place medals in both the high jump and the triple jump. She was also a member of the 4x100 team that took second.
So was Reeder, and her thirds in the 100 and 200 meant that both she and Downey qualified three events for the Class 4A State track meet.
Altman, the team's top javelin thrower last season, took second place at the league meet but had an off day at regionals and failed to make it to state.
But Altman, a shoe-in for a top finish on most days, will be missed as much as Reeder and Downey, Shaw said.
"That's a lot of points to make up," he said.
But he said the 25 girls on this team were up to the task.
Erin O'Brien is a girl who should play a significant part in that. Last year O'Brien finished third in the Kaw Valley League meet in both the javelin and the pole vault.
The team also is strong in the hurdles, with Aimee Eisman at the top of the list. She finished sixth in both the high and the intermediate hurdles at last year's league meet.
Shaw said he also expected Jennifer Reischman would be strong in the hurdles this season. She also placed sixth at the league meet in the triple jump.
Alicia Stauch could come up big for the Chieftains. Last season she took third-place in the 3200 and fourth-place in the high jump.
But the returner who has the potential to make the biggest impact for the Chieftains this season, especially during early season practices, is the team's lone senior.
Aubrey Mikijanis, a utility distance runner, is the team's leader.
"She sets a real good work ethic for everybody else to follow," he said.
The team first meet is scheduled for April 3 at Lansing.