Sun shines on St. Pat's parade
It was a gorgeous day on Saturday, as Tonganoxie residents lined Fourth Street for the 14th annual St. Patrick's Day Parade.
Leading off the event were members of Knights of Columbus from Eudora, Lawrence, Tonganoxie and Baldwin. Their truck, carrying the American flag, POW-MIA flag and state flags, rolled out shortly after 10 a.m.
"This is the third year we've been here," said Ron Wroczynski, Lawrence. "They've asked us to do it, so we come and do it."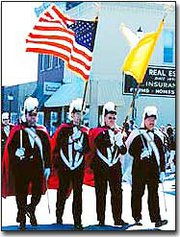 And they're glad to participate.
"In Eudora, we follow the fire truck," aid Bob Greenlee, also of Lawrence. "But here, we get to lead."
The Tonganoxie High School and Junior High School bands marched to their own tunes. Some junior high musicians had sprayed their hair green, in honor of the Irish holiday.
Alison George's brother, Philip, a trumpet player in the junior high band, even sprayed 8-year-old Alison's hair.
Pipers of the Plains, a bag-pipe brigade from Topeka, filled the air with the sounds of Celtic countries. And the parade also featured a group of singing Girl Scouts.
Members of Troop 3380, all students at Glenwood Ridge Elementary School in Basehor, pleased parade-goers with their version of a Christmas carol:
"We wish you a happy spring break, we wish you a happy spring break, we wish you a happy spring break and a happy St. Pat's!"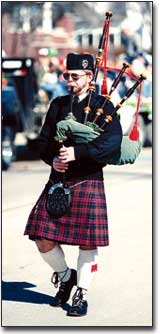 Carlie Breuer, 8, explained, "We got that song from our class at school."
She was joined by Kaitlin Allen, 8, Laura Allbee, 7, Shanna Breuer, 6, Emily Knapp, 7, and Kenzie Mitchener, 8.
One Tonganoxie 12-year-old, Kyle Cobb, had a view no one else shared, as he motored in the parade, seated in his yellow go-cart. James Konomos, 13, Kansas City, Kan., followed Kyle on a bicycle, starting the go-cart engine whenever it died.
Before the parade started, three youngsters waited patiently, standing on roller blades. They explained they planned to make it the entire route even up the hill between Main and Delaware streets.
"Is there another hill going down?" asked Michael Barrett, 7, Kansas City, Kan. "That's what I'm afraid of. If I was on my bike, I'd go zooming down!'
And off he went with comrades Jake Boutte, 9, Shawnee, and Zachary Hinds, 5, Kansas City, Kan.
A parade in Tonganoxie wouldn't be a parade without many entries from the Country Cruisers car club. Billie Aye, driven by her husband, Delbert, held a brown stuffed bear on her lap, decked out in green.
"He always parades," she said about the bear, which she made herself. "I told him that next year he's not wearing this stupid hat because it won't stay on unless I hold it."
Chanel Greenwell, 11, also was outfitted in green from her head to nearly her toes. Only her shoes were brown. She wore her red hair tied up in two small ponytails, held tight with green bands. Her outfit featured both a green skirt and a green shirt.
"I even painted my nails green," the Tonganoxie girl said. "It's part of my heritage, and I like being green."
Another person who apparently likes "being green" at least once a year is this year's Grand Leprechaun.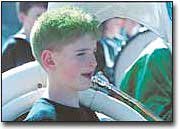 John Lenahan, who enjoyed the honor, said he's missed only one St. Patrick's Day Parade, and that was because of illness. Like Chanel, he was decked out in green. But unlike Chanel, his shoes were green.
"One day, I thought I ought to have something different," Lenahan said.
His wife purchased some green polyester pants and a green and blue shirt for him at Good Shepherd Thrift Shop. He added a pair of green suspenders.
"I decided I needed something to set that off," Lenahan said. "I had these loafers on, and they were old, but they were serviceable. So I took them to the back and painted them green.
"They're only used one day a year."
More like this story