Tonganoxie on threshold of changes
Tonganoxie's doors are ready to open.
With the city issuing a record 99 residential building permits in 2000, housing developments and residential options continue to expand.
Tim Keller, one of the members of the Eagle Valley corporation, which has established a residential development on the south side of Tonganoxie and which will start on another phase this spring, says the rows of new homes throughout Tonganoxie will help sell themselves.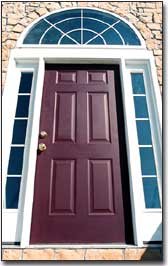 "You have to have something to show people when they come out to look at your town," Keller said. "You can't just show them a vacant piece of ground and expect people to know what it's going to look like they can't visualize that. They want to come in and touch it and feel it."
J.W. Evans, who has started an upscale development, Evans East, in an older part of Tonganoxie, says he's seeing a growing interest in his area.
"There are two houses so far, and two more to be built in the spring," Evans said.
Builder John Bonne, Basehor, is the exclusive builder for the custom homes in Evans East. The houses must be a minimum 2,000 square feet and Evans said he has a two-page list of restrictions to keep the neighborhood looking good. The homes in Evans East will cost $200,000 and up. No spec houses will be built on the 14 lots, Evans said.
Evans, who started the development a year and a half ago, says he's taking the wait-and-see approach regarding expansion of the higher-end housing market.
"I feel that Tonganoxie is ready for upscale type of houses in our area," Evans said. "I'll see how this development goes and I have another one that I want to start when I'm finished with this."
Apartment dwellers this spring will find they have more to choose from in Tonganoxie when builder Jack Cronemeyer completes his first eight luxury apartment units.
Rock Ridge apartments are decked out with a southwest flair, Cronemeyer said. Amenities include doors from Santa Fe, Mexican tile floors, concrete kitchen countertops with rolled copper edges, clawfoot tubs in the master bathrooms and whirlpool tubs in some of the units.
The 1,280-square-foot three-bedroom apartments just off of U.S. Highway 24-40 at Ridge Street, will rent for $1,050 a month.
Cronemeyer said he's had calls from people who are interested in the units, but the first units won't be ready until May.
"I'm counting on the demographics of Tonganoxie to change a little bit with the racetrack and some of the other stuff going on," Cronemeyer said.
He guessed that young mobile couples, as well as older couples who don't want the responsibility of a house, might be potential Rock Ridge residents. After the first eight apartments are completed, Cronemeyer plans to begin construction on an additional 16.
Another housing option soon to be available in Tonganoxie is Country Hills, a manufactured-home community owned by Steve Sturgeon.
Country Hills is at the intersection of U.S. Highway 24-40 and Smiley Road. The residential area includes paved streets, curves, gutters, sidewalks and trees, as well as an above-ground tornado shelter.
Winter weather has slowed construction of the 91-unit park, but even so, Sturgeon said he plans to open in June.
Some of the lots, which rent for $225 to $310 for the larger lots, have already been reserved, Sturgeon said.
"The interest has been high," Sturgeon said. "I anticipate it pretty much being done by fall, there's a high demand for it."
Lawrence Realtor Ric Burke said he thinks Tonganoxie is a good bet when it comes to having real estate ready, even though some homes may have been sitting unsold for a few months.
Burke has new homes listed in the Eagle Valley subdivision where the price ranges from $115,000 to $139,000.
"There are a lot of things on Tonganoxie's horizon including the racetrack and a possible casino," Burke said. "From a builder's point of view, everybody says, gosh, I think it should be selling faster, we should be making more money but I think things in Tonganoxie are going fine."
House sales stalled during the winter months, Burke said, and recently began taking off again.
"I've had two open houses in the last three weeks up there and there is definitely an increase from what it was in the winter. We sold a house this week and we have another one under contract, so I'm pretty pleased."
Tonganoxie house hunters are looking for a small-town atmosphere, Burke said. And they're looking for the most value for their dollar.
"People are looking for value," Burke said. "Value means the most square footage for your dollar, and you can still find that in Tonganoxie."
Burke said that because of higher priced lots in Lawrence, Tonganoxie houses tend to sell for about $10,000 less than comparable homes in Lawrence.
On the other hand, he said development costs, including various city fees, are higher in Tonganoxie.
But he said he understands.
"It's because there's a small pool of people to pay for infrastructure improvements, but the availability of cheaper land more than makes up for that."
Art Hancock, one of the developers of Stone Creek subdivision, located on the east side of Tonganoxie along U.S. Highway 24-40, said the housing market is probably at a saturation point for the time being.
Yet, he and his partners plan to start the second phase of Stone Creek as soon as the final 15 to 20 lots from phase one sell. The first phase included 71 lots, while the second phase will contain 31 single-family residences, Hancock said.
With much of the infrastructure costs behind them, including a turn lane on the highway, sewers, natural gas lines and road work, Hancock said the next phase should go in a little easier.
In addition, Hancock is a partner of a 17-lot single-family housing development on Smiley Road, northwest of Tonganoxie Junior High School. Like the other new additions in town, this has minimum square-footage requirements, as well as other restrictions to keep the neighborhood looking nice. Hancock said there seems to be an interest in this area.
"It will be a nice little subdivision for people who don't want to be on the highway," Hancock said.
Another trend, which Stone Creek will be ready for, Hancock said, is on the commercial side.
The 135-acre Stone Creek development includes a 300-foot deep commercial strip along the highway. This area is platted for eight lots, but Hancock said the developers would be flexible as far as the size of the lots in order to facilitate development.
"I expect to see steady growth in commercial development in the next two or three years," Hancock said.
Keller said people are attracted to Tonganoxie's sense of volunteerism, as well as real estate.
"Look at how the town rallied around after the tornado," Keller said. "And there's the community service going on that improved high school athletic area and the park across the street. There's a lot of that stuff that you don't see in the bigger communities."
Or it may be more simple than that.
"It's a small-town atmosphere," Burke said. "When it comes to family values, they can get that in Tonganoxie where they won't get that in Lenexa."