Pitchers in progress
Baseball, softball teams prepare for first outings
As Tonganoxie High School's baseball and softball teams prepare to kick off their seasons against Jefferson West next week, the biggest roadblock for both teams is inexperience especially in the pitching department.
But coaches say their young teams have compensated for that by working hard in the preseason including attendance at optional spring break practices
"It shows that they want to play," Coach John Lee said. "It gives me some hope that they want to improve."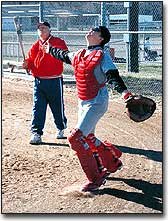 Baseball
Lee and assistant coach Andy Gilner will have their work cut out for them early in the season, because besides youth and inexperience, the Chieftains also will face three of the top teams in the area to open the season.
"Jeff West has always been tough," he said. "Basehor and Piper both have been predicted to win league."
Gilner said the team would spend this week, the last before its first game, working on how to handle different game situations.
Lee said he wasn't particularly concerned about playing tough teams early in the season.
"We're young, and we may make some mistakes for a while," Lee said. "But hopefully toward the end of the season, we'll be playing pretty good ball."
And if anyone can deal with youth, Lee can. His twin boys, Garrett and Gavin, came into the world on March 13.
But Lee has two other boys on his mind as he tries to replace four varsity starters from last season's team three of whom were pitchers.
Ryan Lowe and Kelly Woelk will begin the season as the team's two varsity pitchers, Lee said, adding that there are some players he hasn't seen pitch.
Lee said he was encouraged by how much work the team has put in so far this season.
Of the team's 36 members, only seven of them missed spring break practices.
Which is good, Lee said, because the team needs to be as ready as it can possible get.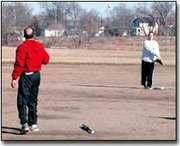 "It's going to be tough right off the bat," he said. "We'll have to come out playing good from the start."
The team's first game is 4 p.m. Monday against Jefferson West at the Leavenworth county fairgrounds.
Softball
The softball team, like the baseball team, has also been putting in some hard, early season work to rebuild a team depleted by the departure of a strong senior class.
Because of the large turnaround, coaches are spending this last week of the preseason trying to decide who will fill what position.
"We're going to work on some game situations," Coach Mark Mall said. "But there will be a lot of competitions for a lot of spots."
One spot, however, that there will be little competition for is pitcher, and the number one pitcher so far this year is a freshman, Mall said.
To start the season, Katie Jeannin will be the varsity's starting pitcher. Jeannin replaces Sammy Schiltz who graduated last year.
Mall said his players have competed for more spots on the team than he's seen in a long time which has been giving coaches headaches because the team is full of equally talented players.
That equal talent level has helped the team recover from the loss of the experienced players from last season.
"From top to bottom, this is as competitive as the team has been for a long time," Mall said.
And the team will need that talent when it faces traditionally strong Jefferson West 4 p.m. tomorrow.
"They've been very competitive every year we've played them and I'm sure they will be again this season."