The house they built
Minister's 40 years in the pulpit shows dedication
It is Sunday morning, and parishioners filter into the makeshift church home one by one and two by two.
A tall silver-haired gentleman approaches, grips a reporter's hand in an almost painful handshake and said, "I was warned you'd be here."
But there's a kind smile on the Rev. John Hansen's face.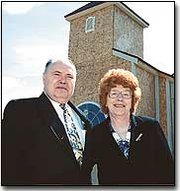 Some 15 people are in attendance, counting the pastor, who walks the room and appears to be greeting everyone with his iron grip.
Meanwhile, Herman Karriker, the congregation's pastor emeritus, sits on the front row of metal folding chairs, quietly, while he waits for the service to begin. His wife, Waneta, sits on the other side of the room, close to the piano, which she will play.
There is the rustle of hymnals, worn from years of use, and some of the books show signs of water damage, a reminder of why church members are meeting in a different place, a souvenir of the May 11, 2000, tornado that demolished the church building.
After Karriker opens the service with a group welcome, Fred Cleaver leads three songs as Waneta Karriker accompanies on the piano. The tempo is lively and jubilant. The pastor claps his hands.
When the pastor asks church-goers to join in prayer, soft voices respond, and everyone seems to be speaking their own, individual prayers. The whispery voices rise to a sort of crescendo, and then gradually, as the prayers subside, surrender to a gentle hush.
Brother Don Wood, the missionary in charge of rebuilding the church, turns on a tape recorder, takes the microphone in hand, and begins to sing to the music. His melodic voice and clear enunciation match the quick tempo.
From the front row, the two pastors tap their feet in time.
At the end of the song, Brother Don is complimented as "Amens" and "Praise the Lords" rise from the small but appreciative congregation.
But Brother Don would most likely be the first to say that his singing ability isn't something for which he's to be praised.
It's the Lord, he would say.
Singing praises
And it's the Lord who has helped to rebuild the church after the devastation of the tornado, he would say. From the pulpit, Pastor Karriker asks the group to contribute to a special offering which will help pay for the new church.
As his wife, Waneta Karriker, plays the Jericho March , members of the congregation walk swiftly to the podium and place coins or bills in a coffee can labeled "Church Building Fund." To each parishioner, Karriker smiles.
After the last person drops an offering in the can, Karriker snaps on the plastic lid back and says, "Go praise the Lord."
A reason for it all
He knows all about praising the Lord, this man of 66 who in 1959 determined to start an Assembly of God church in Tonganoxie.
He had no parishioners. He had no building. He wasn't even sure he liked Tonganoxie, but the other city he had considered, Platte City, Mo., already had an Assembly of God church.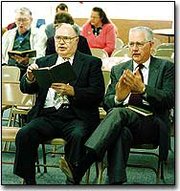 Even though the Karrikers lived in Leavenworth, and Karriker worked in Leavenworth, they decided to start a church in Tonganoxie.
The Karrikers had met a few years earlier at a Bible college in Hot Springs, Ark. Herman was still in his home state and Waneta had grown up in Leavenworth.
"She captured my attention," said Karriker, as he smiled at his wife.
The couple married a year later and moved to California where Karriker completed his training.
Afterward, they moved to El Dorado, Ark., and Karriker pastored two churches.
In 1959, the family moved to Leavenworth.
The first interest in their planned Tonganoxie church came from the Ronnie Brooks' family, Waneta Karriker said.
The church started out meeting twice on Sunday and each Wednesday evening in a building on Fourth Street where First State Bank is now. In 1967, when the bank relocated, church members began meeting in the Odd Fellows hall.
Soon after, a church member insisted on lending $10,000 to build a church.
A lot was purchased and construction started, with church members doing the bulk of the work.
"When we were first building the basement, Herman was working a 40-hour week and we drove to Tonganoxie twice a day on Sundays for church, and on Wednesday nights," Waneta Karriker said.
With them were their three young children.
"There were times we got discouraged," Waneta Karriker said.
But the couple says they were always successful in buoying up the other one's spirits.
On Easter Sunday, 1964, the church held its first service in the newly completed basement.
Three years later, on Easter Sunday, 1967, church members met in the new sanctuary upstairs for the first time.
Through the years, the church membership rolls have dropped. The Karrikers started with about 40 members.
Now, there are fewer. But Don Wood, the construction missionary, predicts growth.
"It's getting ready to grow," Wood said. "It's got to be otherwise we wouldn't need a building."
Growing in faith
The Karrikers say there's a general growth in the Pentecostal movement.
Pentecostal churches, which include the Assembly of God denomination, preach salvation.
"We believe that you have to be born again," Waneta Karriker said. "God alone is able to give us answers to life's problems, and if we accept him as our savior, we have the promise. He will abide in and with us, become our friend and helper, and give us peace and the hope of eternal life with him."
The church also practices immersion baptism, and when members feel the calling, they speak in tongues.
So long have the Karrikers been here, that now they're seeing fifth-generations of families going to their church.
The tornado, they say, gave the church a fresh start.
"It's a continuance of what had begun and a revitalization," Waneta Karriker said, putting her hand over her heart as she speaks. "I think that we were probably a little complacent, we were comfortable with where we were. This has challenged us. We've all drawn closer to each other and we've drawn closer to God."
Faced with challenge
About four years ago, Herman Karriker checked into one hospital for a cardiac catheterization. Soon, he was transferred to another hospital for a quadruple bypass. Although he recovered from the heart surgery, since that time, he hasn't been able to preach as he once did, said his wife.
For the last year, John Hansen has been assisting as pastor, and Karriker has been named pastor emeritus. Each Sunday, Hansen and his wife, Sharon, drive from Topeka so that Hansen and Karriker can lead the services together.
"We kind of work this thing as a team," Hansen said.
It's not often a pastor stays at any church, anywhere for 40 years, he said. And soon, the Karrikers' official responsibilities will end, as they retire. Hansen credited the longevity to Karriker's personality.
"From what I hear people say, he was a real fireball," Hansen said.
"I've heard that he was a dynamic speaker and a take-charge kind of person he would have to be to do what they have done. Also, they have that stick-to-it-ive-ness, as well as dependability. And 40 years that says so much about being dependable."