Softball pace simmers down
Lady Chieftains lose doubleheader to Santa Fe Trail
After cruising along on a two-week, seven-game winning streak, Tonganoxie's softball team hit a speed bump last Tuesday, dropping both games of its doubleheader at Santa Fe Trail.
The Chieftains recovered by Thursday, though, and rebounded to beat Perry-Lecompton in both games at the Leavenworth County Fairgrounds.
Coach Mark Mall said that, though his team lost twice in a row to Santa Fe Trail, it hadn't played that poorly.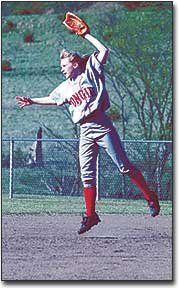 In the first loss, 1-3, Tonganoxie held Santa Fe Trail scoreless for the first two innings, before giving up two runs in the third and one in the fourth.
Tonganoxie then held the team scoreless for the rest of the game, and had the win within its grasp with the bases loaded in the sixth.
But the Chieftains were only able to score one run in that inning and no runs in the seventh, locking up the win for Santa Fe Trail.
The Chieftains only had four hits in the game.
They only had two hits in the second game, but their defense started to find its rhythm, holding Santa Fe Trail scoreless for six of the seven innings.
But in that one inning the Chieftain defense gave up four runs and Santa Fe Trail won the second game 4-0.
"Basically, they only scored in three innings out of the 14," Mall said. "We just didn't score. Katie (Jeannin) pitched real well she did a good job keeping them off balance."
Thursday versus Perry-Lecompton the Chieftains were hitting on all cylinders. Batting, pitching, and fielding they did it al well.
In the first game, a 5-1 win, Tonganoxie had eight hits and no errors. Jeannin gave up only five hits while logging 12 strikeouts.
At the plate, Mall said his team got hits at all the right times.
"Against Perry, basically the five runs we got in the first game were just timely hitting," Mall said. "I mean that's what you've got to have when you play the better teams."
Tonganoxie scored one run in the first, one in the second, one in the third and two in the fourth.
In that first game, two girls hit everything that was thrown their way. Andrea Korb went 2-2 and Heather Beach went 4-4.
The second game, a 3-0 win, went much the same as the first, with the Chieftains out-hitting, out-pitching and out fielding Perry-Lecompton.
In the shutout, the defense only committed one error, which has been the team's mainstay this season.
"We're playing well defensively," Mall said. "We've only had one game since the first three where we've had more than one error. We're just making some good heads-up plays."
The two wins moved the team's record to 9-5.