Tony Maurer looks much like any other 19-year-old as he surfs the Internet, searching for a good buy on a used pickup.
In many ways, his life is just as it's always been. But in some very fundamental ways, it changed dramatically on the first Sunday in April.
The truck he's hoping to buy will be outfitted with special equipment so he can drive it. The chair he now sits in has large chrome wheels.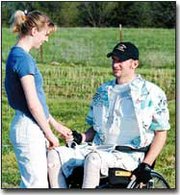 When he woke up on the morning of April 1, Tony Mauer didn't need special equipment to drive or to maneuver about his life.
But an accident later that day changed all of that.
Tony had spent the weekend in Tonganoxie, helping his father, LeRoy Maurer, at the family farm five miles northeast of town.
Sunday evening, he drove to Pittsburg where he attended college. Tony ate dinner with his girlfriend, Kristen Riley, then joined other friends to ride four-wheelers at a spot where they had ridden before.
"It was at night and I hit some fresh gravel that wasn't there before," Tony said.
He tried to stop.
"I ended up going through the trees at a very high rate of speed," he said.
He was torpedoing at 50 to 55 mph.
"As I was going off the road, the four-wheeler started flipping end over end. I let go and was sort of catapulted through the air. The whole time I was flying through the air, I saw the four-wheeler rolling," Tony said. "Then I landed on a log and it snapped my back. As soon as I landed, I knew I had broken my back, because I lost all the feeling in my legs."
In addition to crushing three vertebrae and breaking three ribs, the fall severed his spinal cord.
Now, a month after the accident, Tony is making rapid progress, his mother said. In fact, he's expected to be dismissed from the hospital on Thursday.
"Once they got through surgery and got his pain under control, he's been zooming through therapy," said his mother, Sue Maurer. "He's actually getting out two to three weeks earlier than he was expected to."
No joke
Because Tony was so calm after the accident, his friends didn't believe his back was broken, Sue Maurer said.
After the ambulance carrying Maurer left for the hospital, his friends went to inform Kristen, a Pittsburg State University freshman who was working the evening shift at the local Wal-Mart.
She thought they were kidding.
"Since it was April Fools' Day, I thought it was just a huge, horrible joke," she said.
But it was no joke.
A friend also had called Sue and LeRoy Maurer. They rushed to Pittsburg. Just minutes after they saw their son in the hospital, the injured Tony was loaded onto a helicopter bound for the University of Kansas Medical Center in Kansas City, Kan.
Because of the damage to his spinal cord, Tony had to wait a week before he could undergo surgery, his mother said. So that he could sit upright again, a metal rod was attached along the injured area of his spine to provide stability where the vertebrae were crushed.
But nothing could repair the severed spinal cord.
Friendship helps
Since then, family and friends who've always been close pulled together like never before.
It started the night of the accident, Sue Maurer said. Their son was being put on a helicopter and would be in Kansas City long before they could make the 200-mile trip by car.
Sue Maurer wanted someone to be with him when he arrived at the medical center.
Her voice cracks as she explains that someone was there to meet him. Brian Korb, Tony's roommate who is also from Tonganoxie, had been friends with Tony since they were 3 years old.
It was Brian who had called the Maurers with news of the accident.
"Without my knowing it, Brian had called his parents, Allen and Debbie Korb, and they were at KU Med when he got there," Sue Maurer said. "They said that Tony was like one of their own children."
Maurer's sister, Tiffany Garner, and her husband, Ken, took over the family's farm chores after the accident.
For the first couple of weeks, Tony's college friends drove each evening from Pittsburg to Kansas City. They would stay with Tony until about 3 a.m., head back for a short sleep before the next day's classes.
At one point, while Tony was in the intensive care unit, the waiting room was filled with 62 friends and family members.
Maurer said that countless friends did countless good.
"Gary and Jane Myers brought a laundry basket filled with every kind of snack imaginable," Sue Maurer said. "They said we wouldn't have time to go to eat, but we needed something to nibble on."
Support took many forms.
"We had prayers from coast to coast," Sue Maurer said.
Obstacles
Tony, who has a college friend who is disabled, had some idea about the obstacles in his path, now that he's paralyzed from the waist down.
For example, Tony's doctor gave him permission on Saturday leave the hospital for dinner. So Kristin took him to a fast-food restaurant across the street.
The short journey was more difficult than she had anticipated.
"You don't realize the sidewalks are so bad," Kristin said. "It's especially hard to get around when you're first trying to get used to the wheelchair. It's almost impossible to keep it on the sidewalk."
Tony said, "It was hard to keep it from rolling over on the one sidewalk, and then when we got to Taco Bell, there weren't even handicapped ramps."
But Tony said he'll clear those obstacles. His first year in college at Pittsburg State University, he became close friends with a student who uses a wheelchair.
"I used to be able to jump curbs on my buddy's wheelchair," Tony said. "But I lost my sense of balance when I broke my back and I'll have to work to get my balance back again."
Homeward bound
Last Saturday and Sunday, Tony came home each day on a six-hour leave from the rehabilitation unit at KUMC.
As the family prepared for a barbecue dinner Saturday afternoon, there was the constant buzz of saws and the pounding of hammers echoing along a hallway in Sue and LeRoy Maurer's earth contact home.
LeRoy Maurer, along with friends and relatives, worked to remodel a bathroom and two bedrooms to turn the area into a wheelchair accessible suite.
At the dining room table, the 6-foot-5 Tony sat up straight in his wheelchair. Sitting near him was Kristen, who has been at his side since the accident.
Their plans for college have taken a detour, at least for the time being. Both have taken incompletes in this semester's courses.
But they plan to return to Pittsburg in August to complete their spring semester work, and continue work toward degrees.
Tony wants to complete his degree in the automotive technology program. Kristin wants to major in business administration.
Tony said he's looking forward to returning to college, and also to getting a summer job. He wants to pull a flatbed trailer and haul small loads.
But first, he said, "I'm going to come home and we're going to get everything back to as normal as we can."
He plans after college to work with his father on starting a cattle company.
The family plans to make tractors and other farm equipment handicapped accessible.
Responsibility
Even today, Tony said the accident was a fluke.
"I've ridden four-wheelers all my life, and I've done some of the craziest stuff," Tony said. "This time, I was riding normal and it happened so fast."
The injuries he suffered, to his spine, spinal cord and ribs, occurred when he landed on the log.
"I came off of the four-wheeler the way I knew I should have come off," Tony said. "I just didn't see the log laying on the ground if I had landed somewhere else, I probably would have gotten back up on the four-wheeler."
But Tony accepts the responsibility for the accident, and his mother is proud of him for it. "We've had a lot of people ask if we were going to sue the four-wheeler company," Sue said."I asked Tony about it and he said, 'No, I messed up and it's nobody's fault but my own.' I think for someone to take that kind of responsibility, especially at the age of almost 20, shows a lot of maturity."