Dennis Bixby prepares his Christmas list ahead.
Way ahead.
For the past three years, at Christmas time, Bixby has given a citizen of Tonganoxie a hand-carved wooden statue that represents that person. Bixby selects individuals who he believes make Tonganoxie a better place to live.
Bixby, who works at Martin Mechanical, Kansas City, Mo., said he's been carving for 13 years. He spends about an hour a day practicing his craft, and has made gifts for family and friends. For Christmas last year, he gave his daughter, Amanda, a hand-carved doll, complete with a cloth dress and shoes.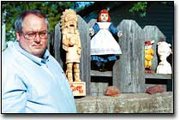 When he's not working on his carving, he helps with remodeling projects around the house. He is married to Denise Bixby, who is activities director at Tonganoxie Nursing Center.
Bixby's annual citizen-carving project started three years ago when several stabs at carving different statues finally worked out as a likeness of a police officer. For Christmas 1998, Bixby gave that statue to Sgt. John Putthoff, of the Tonganoxie Police Department.
In 1999, Bixby selected Kent Needham, president of First State Bank, for a carving. And this past December, Bo Himpel was the winner.
So, who's on for 2001?
Bixby crosses his arms across his chest, wears a solemn face and says, "Can't tell."
But within moments, there's a twinkle in his eyes and a smile lights up his face.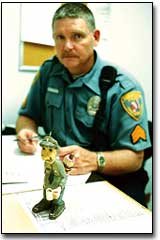 "I've already decided this year's," Bixby said. "It's someone who's done a lot for the community."
But so far, the work's still in the planning stages.
Moreover, he's already thinking about prospects for the year after that.
"I'm actually working on narrowing things down for 2002," he said.
But whomever Bixby selects, the statues will likely make the recipient, and others, chuckle.
"Of course I'll continue to make fun of their profession or the things that they do," Bixby said.
For instance, Putthoff's statue shows a policeman who resembles Putthoff, mustache and all. The policeman is holding a nightstick behind him, and doughnuts are stacked on the nightstick. He also holds a cup of coffee.
Needham's statue shows a banker, complete with money bags, real pennies at his feet, and even wooden nickels.
And Himpel's statue shows a man working outdoors. A close look at his backside shows a battery, which Bixby said shows that Himpel is a person who keeps going and going.
"He's like the Energizer rabbit," he added.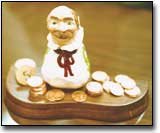 The statues are well intended, Bixby said, and don't necessarily portray anything about the real person.
For instance, he said of Needham's banker caricature:
"The last thing Kent would ever be is greedy," Bixby said. "But I decided to carve this person that was just totally obsessed with money, so much so that he was tied up in a money bag, and if you look close, there are dollar signs in his eyes."
And Bixby said he selected Himpel for more than the volunteer work he does at Reusch Memorial VFW Park or at Himpel Lumber Company. He selected Himpel because of the example he's setting.
"There's going to be people 50 years from now who will be volunteering because they're seeing Bo do it now," Bixby said. "The gift that he's giving will keep on going."