Chieftains stun competition on home turf
First place shows girls' capabilities at full strength
The girls track team, healed from mid-season injuries, used an all-around team effort to defend its home turf, capturing first place at the Tonganoxie Invitational.
"Our strength is that we're able to place in a lot of the events," Coach Bill Shaw said. "And we have some people who are able to place pretty high."
The team placed in all but three events on May 1 on its way to a 157.5-point performance, 35 points better than second-place Lansing.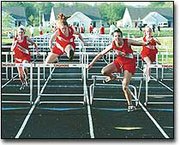 Though the team placed in nearly all the events, Tonganoxie's performance in the two hurdle races stands out.
In both the 100-meter and the 300-meter hurdles, Aimee Eisman, Jennifer Reischman, Kelly Breuer and Britney Jerome all finished in the top six.
Eisman won the 100-meter race and took second in the 300-meter race.
"I think everyone's kind of coming into their own right now," Shaw said. "I think were looking for everybody to be healthy and ready to go for this Thursday's league meet."
The league meet begins at 4 p.m. Thursday in Tonganoxie.
"I think we'll end up doing quite well," Shaw said. "I know our kids usually gear up for that KVL meet and I know everybody gives 100 percent."
So far this year, the Chieftains have been able to beat every league team except Mill Valley.
"I really don't know how we'll match up with them," Shaw said. "They've got three or four quality runners that we don't match up too well with. They've got a lot of potential state medallists."