City volunteers work weekends to restore trees to Tonganoxie
Trees in Tonganoxie suffered tremendous damage in last May's tornado.
Velda Roberts of the Tonganoxie Tree Board said that 10 percent to 30 percent of trees along streets in the city were damaged.
Recovering from this loss has taken almost a year's worth of planning for the tree board.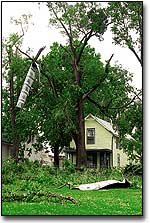 The first project to help replace the loss was a substantial one.
In March, physical evidence from the extensive project was visible from First to Fourth streets between the Leavenworth County Fairgrounds and U.S. Highway 24-40.
Forty trees were taken down and numerous stumps ground during the tree removal during the initial weekend.
The next weekend was spent planting new trees in the old trees' place. Sixty-three trees were planted.
About 20 more should still be planted when the trees become available. All of the trees were purchased from Daveson's Nursery in Basehor.
"The most expensive part of the project was removing the dead trees," Roberts said. "We had to contract professional assistance to get out the old trees."
The trees that the tree board is working to replace are in the city right of way.
Roberts said there are other trees throughout town that were badly damage in the tornado.
The tree board wants to replace as many as possible, and its possible another large tree-replacement project will be undertaken next fall near the center of town.
Roberts half-joked that the tornado hit the right part of town as far as trees are concerned.
"It hit the right part of town," Roberts said. "It hit a part that was already damaged and weakened from disease. Those trees really should've been replaced anyway."
This time around, Roberts said volunteers planted a variety of species to avoid disease.
It took a lot of coordination and work for the tree board and others to get this project launched and nearing completion.
"The thing that's most important is that we recognize assistance of the volunteers from the Green Team and Fort Leavenworth."
Roberts said the fairgrounds area project cost about $3,000 less than the board had estimated.
The project cost dropped from about $14,000 to just $11,000. The state forestry service contributed $2,500 and $1,000 was raised from a radio station golf tournament.
The remainder of the cost is being covered by Peruvian Connection. Roberts said none of the money used for the project comes from tax dollars.
The next tree-replacement project area will probably be from Fifth to Seventh Streets and possibly to Washington Street, east of 24-40, according to Roberts.
"That area was the next badly damaged," Roberts said.
The Tonganoxie Tree Board was established in 1999, not long before the tornado struck.
"This was definitely a lot to handle with such a young board," Roberts said.
"The forestry service's praises make us even prouder."